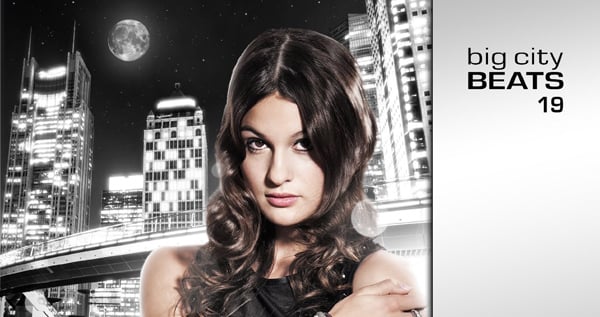 "Big City Beats Vol.19" - Zum Download / Kaufen klicken
Am 04. Oktober 2013 ist es wieder soweit. Dann erscheint die BigCityBeats Vol. 19 Compilation via Edel Records. Seit nunmehr mehr als neun Jahren besteht das erfolgreiche Radio- und Eventformat "BigCityBeats". Dieses Ereignis wurde 2013 mit dem World Music Dome Tagesfestival und dem Release einer Compilations passend zum Event in diesem Jahr gefeiert.
Wer die Compilation vorbestellen möchte, sollte jetzt zugreifen. Die Tracklist hat es in sich!
Auch dieses Mal gibt es auf drei CDs das coolste, angesagteste und aktuellste der nationalen und internationalen House-Szene. Mit dabei sind unter anderem Acts
wie Sebastian Ingrosso, Tommy Trash & John Martin, Empire Of The Sun, Moguai, Dimitri Vegas, Moguai & Like Mike, Armin van Buuren feat. Cindy Alma, Showtek & Noisecontrollers, Milk & Sugar feat. Maria Marquez, Mark Knight und viele viele mehr.
Für nur 15,99€ bekommt man 60 Tracks, die einem die Feierlaube versüßen. Hier stimmt auf jeden Fall das Preis-Leistung-Verhältnis. Egal ob House, Electro, Deep House oder progressive Club-Style - auf der "Big City Beats Vol.19" findet man alles was man braucht. Und hier für euch die vollständige Tracklist des Samples:
CD1:
01. Intro – Take Off Vol. 19
02. Sebastian Ingrosso, Tommy Trash & John Martin – Reload (Vocal Version)
03. Calvin Harris feat. Ellie Goulding – I Need Your Love (Nicky Romero Remix)
04. Alesso vs OneRepublic – If I Lose Myself
05. HIIO – Get Up
06. Empire Of The Sun – Alive (Zedd Remix)
07. Marco V – Saxonized
08. Inpetto – Girls & Boys
09. Moguai – PunkOmat
10. Tiësto – Chasing Summers (R3hab & Quintino Remix)
11. Dimitri Vegas, Moguai & Like Mike – Mammoth
12. Martin Garrix – Animals
13. Timeflies – I Choose U (Fedde Le Grand Mix)
14. Fedde Le Grand and Sultan + Ned Shepard – No Good
15. Krewella – Alive (Hardwell Remix)
16. Steve Angello & Matisse & Sadko – SLVR
17. Hardwell & Dyro feat. Bright Lights – Never Say Goodbye
18. Axwell – Center Of The Universe (Remode Instrumental Mix)
19. Mark Knight & Funkagenda – Man With The Red Face (Hardwell Remix)
20. Bloc Party – Truth (Digitalism Remix)
CD2:
01. Dirty Disco Youth – Black Diamond
02. Danny Avila – Voltage
03. Armin van Buuren feat. Cindy Alma – Beautiful Life (Kat Krazy Remix)
04. Showtek & Noisecontrollers – Get Loose (Tiësto Remix)
05. Dannic – Rocker
06. Sono – Flames Get Higher (Dirty Disco Youth Remix)
07. W&W – Thunder
08. Nicky Romero vs Krewella – Legacy
09. Denzal Park feat. Eyelar – Look Back
10. Kat Krazy feat. Elkka – Siren
11. Salvatore Ganacci – Firefly
12. Audien feat. Michael S. – Leaving You
13. Vato Gonzalez – Sushi Riddim
14. Sex Room – Baux
15. Sick Individuals – Chase
16. David Jones & DJ Falk – House Of God (David Jones Mix)
17. Supafly – Let's Get Down (Federico Scavo Remix)
18. Sebastian Wojkowski – Do It Do It Do It
19. Ninetoes – Finder
20. Dennis Ferrer feat. Janelle Kroll – Mind Ur Step
CD3:
01. Mike Mago – The Show
02. Mark Knight – Your Love
03. Veiga feat. Spicco – Black Hole (Sebastian Gnewkow Remix)
04. Milk & Sugar feat. Maria Marquez – Canto Del Pilón (Yves Murasca Remix)
05. Deux – Party People (Belocca Remix)
06. Betoko & Louie Fresco feat. Fritz Helder – Late At Night (Leftwing & Kody Remix)
07. Ron Carroll, Dany Cohiba & The Henchmen – Love Set's Free (Dave Rose Remix)
08. My Digital Enemy – Nothing To Take
09. Ray Foxx feat. Rachel K Collier – Boom Boom (Heartbeat) (Crazibiza Poolside Remix)
10. Sick Elektrik feat. Roland Clark – In Your Soul
11. Jerome Robins & Dolly Rockers – What About My Love (Etienne Ozborne & Peter Brown Remix)
12. Lauer & Canard, Muzzaik – Vamos
13. The Cube Guys & Georgio Shultz – If It Wasn't For The Music (The Cube Guys Mix)
14. Jason Chance & Dave Rose – Let Me Show U
15. Federico Scavo – Funky Nassau
16. Jose Nunez & Erick Morillo feat. Shawnee Taylor – Addicted
17. Gregor Salto – Bumblebeat (Instrumental)
18. Roul & Doors – Sir Ali (Turn It Up)
19. Prok & Fitch – Here Comes the Noise
20. Francesco Rossi – Paper Aeroplane