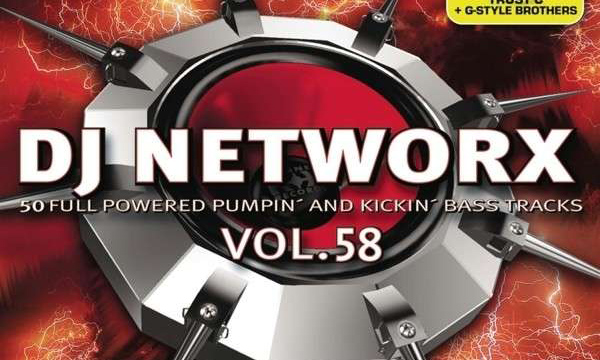 Am 04. Oktober 2013 erscheint eine neuste Ausgabe einer der beliebtesten Compilations aus dem Hause Tunnel Records. Die "DJ Networx. Vol. 58 steht vor der Tür und kommt mit eine netten Tracklist und Titelauswahl zu euch nach Hause - so denn ihr wollt. Die Doppel-CD- Compilation zeichnet sich schon immer dadurch aus, dass sie nonstop gemixt ist. Ihr findet hier die Titel also nicht in Einzelform, sondern in einem DJ-Mix. CD1 hat auch dieses Mal Trust C kompiliert und gemixt, bei der zweiten CD waren abermals die G-Style Brothers am Start.
Auf der ersten CD geht es noch relativ stark kommerziell zu. Neben bekannten Acts wie zum Beispiel Bass-T & Friends, Pulsedriver, Dan Winter vs. Basslovers United finden sich überwiegend unbekannte Produzenten und Newcomer wieder: Lynch & Aacher, Bu
tterfly, Cybernetic - um nur einige zu nennen. Leider hat sich auch das eine oder andere schlechte Chart-Cover in die Titelauswahl geschlichen. "Blur Project - Blurred Lines" zum Beispiel ist sicherlich kein echter Kaufgrund für den Sampler.
Auf dem zweiten Silberling der "DJ Networx Vol. 58" geht es wie gewohnt härter zur Sache. Hier findet man aktuelle Hardstyle Titel, von z.B. Künstlern wie Brennan Heart, Bass Modulators & Audiotricz, oder den Donkey Rollers. Insgesamt sind 50 Titel auf der Compilation vertreten. Kaufen könnt ihr die "DJ Networx Vol. 58" unter anderem bei Amazon für nur 20,99€ als physische Ausgabe (2CDs) oder als kompletten Mp3-Download für nur 13,99€. Und hier die vollständige Tracklist für euch:
CD1:
01. Bass-T & Friends - Shine Your Light (G! Jump Mix)
02. Dan Winter vs. Basslovers United - Girlfriend (Dan Winter Radio Edit)
03. Pulsedriver - Cambodia (Topmodelz Remix)
04. Lanai - Showtime
05. Van Snyder & Dj D.M.H. - This World (Dj Texx & Trust C Remix)
06. Tomtrax - Mono 2 Stereo (Empyre One Remix)
07. Dexter & Gold - Gonna Make You Sweat (Everbody Dance Now) (G! Mix)
08. Da Funk (Get Lucky (Smithee Mix)
09. Jaybee Feat. Maury - Mon Bijou (Dj Lanai Bootleg Remix)
10. Blur Project - Blurred Lines (Smithee Remix)
11. Malibu Drive - Feel It (Topmodelz Remix)
12. Daryela Feat. Timbaland - Lose Control (G! Mix)
13. Quickdrop Feat. Toni Fox - 24 Hours Happiness (Original Mix)
14. Massive Base & Buri - Diary Of Change
15. Dj Myde Pres. Cybernetic - Perseids (Dj Space Raven Remix)
16. Filip Rutkiewicz - Justine
17. 2 Empty Headz Feat. Phil Setterline - This Is Just A Beginning
18. Hardface - Katyusha Stomp (Quickdrop Remix)
19. Butterfly - Hardlove (Motion Anthem 2013) (Dj Madwave & Dave Joy Remix)
20. Dj Madwave - Waves Of Freedom
21. Energyzer Feat. Steve X - Forbidden Lights (Bastian Basic Remix)
22. Bastian Basic Feat. Nijana - Castles In The Sky
23. Lynch & Aacher - Turn The Signs (Extended Mix)
24. Cybernetic - Appearance (Thomas Petersen Vs. Gainworx Remix)
25. Dezybill Meets Sven E. - Take You Higher (Bulljay Is High Remix)
CD2:
01. Audiofreq - Welcome To The Future (Radio Edit)
02. Brennan Heart - F.I.F.O
03. Waverider - Outer Space
04. Bass Modulators & Audiotricz - Feel Good
05. Psyko Punkz Feat. Murda - Trippy Hippie
06. Alpha2 & Noisecontrollers - Craving For The Beat
07. Mystery Feat. G-Style Brothers - Freaks At Night
08. The Pitcher & Slim Shore Feat. Sam Lemay - Forever Young (Official Wish Outdoor Anthem 2013)
09. Josh & Wesz - Crowdpleaser
10. Hard Driver & Mc Dl - The Hunter
11. Zany & Frequencerz - Quakers
12. Gunz For Hire - The Massacre
13. The Vision - The Evil Death
14. Donkey Rollers - The Million Gods
15. B-Front & Revolt - W.A.R.
16. Dj Thera - Celebrate
17. Exit Mind - Lost
18. Ironite - Through Darkest Night
19. In-Phase & Omegatypez - Supernova
20. Titan - My Angel
21. Endymion & The Viper Feat. Feral Is Kinky - Raging In The Dancehall (Coone Remix)
22. Philippe Rochard - Mad Circus (G-Style Brothers Remix)
23. Boozed Panderz & Vaughn - A.L.P.H.A. 2013 (The Official Hardstyle Anthem 2013)
24. El Grekoz Feat. Yuna X - The Wonder Of Music (Concept Art Remix)
25. Patriotz - Oh Yeah! Don't Care!