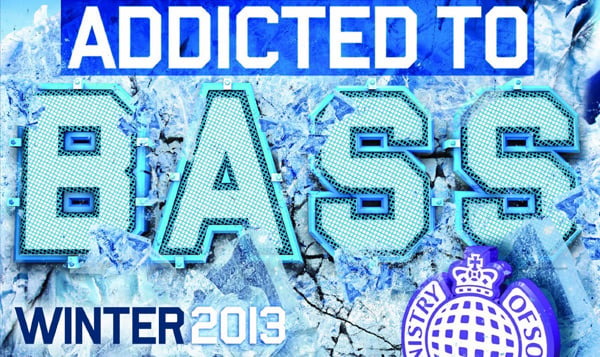 "Addicted to Bass Winter 2013" - Zum Download / Kaufen klicken.
Am 04.10.2013 erscheint mit der "Addicted to Bass Winter 2013" eine drei CDs umfassende Compilation aus dem Hause Ministry of Sound UK. Der Sampler umfasst 66 Tracks und kostet nur 14,99€! Gemixt wurde die "Addicted to Bass Winter 2013" von Jim Sullivan & Eddie Craig alias Wideboys. Im Jahr 2008 gewannen sie den "Urban Music Award", waren im Jahr 2000 der "Best Newcomer Act" in England, hatten bei Warner,
Universal und AATW Veröffentlichungen und stehen schlicht und einfach für Qualität. Auch das zeichnet die "Addicted to Bass" Compilation aus.
Die Tracklist hat es in sich. Viele aktuelle und fette Club-Tracks befinden sich auf den drei CDs. Auch echte Highlights sind mit dabei. Oder wer hat keine Lust auf Sachen wie "Showtek - Booyah", "Naughty Boy ft. Sam Smith - La La La" oder "Dada Life - Boing Clash Boom" ? Weitere Perlen in der Titelauswahl sind Songs von Acts wie zum Beispiel: Knife Party, Avicii vs Nicky Romero, Underworld, Ellie Goulding, Dizzee Rascal, Lana Del Ray, Chris Malinchak, Calvin Harris ft. Tinie Tempah, Sebastian Ingrosso & Tommy Trash, Afrojack ft. Chris Brown, Zedd oder Armin Van Buuren. Eine Menge hochkarätiger Produzenten und DJ also, die ihr unter den 66 Titeln findet.
Erfreulich ist auch, dass viele nicht ganz so bekannte Remixe von großen Hits auf der "Addicted to Bass Winter 2013" vertreten sind. So bekommt man auch einen kleinen Einblick in die aktuelle Club Musik aus England. Die vollständige Tracklist haben wir hier für euch am Start.
CD1:
01. DJ Fresh Vs. Diplo Feat. Dominique - Earthquake (Original Mix)
02. Chase & Status - Lost & Not Found (Kove Remix)
03. Knife Party - EMD Death Machine
04. Showtek - Booyah (Original Mix)
05. Wiley - Flying (Original Mix)
06. Skream - DIAM
07. Naughty Boy ft. Sam Smith - La La La (Kaos Remix)
08. Avicii vs Nicky Romero - I Could Be The One (DANK Remix
09. Iggy Azalea - Bounce DJ (Green Lantern's Trap Remix)
10. Nicky Romero - Symphonica (Bare Remix)
11. Underworld - Rez (Bassnectar Remix)
12. John Newman - Love Me Again (Kove Remix)
13. Drumsound & Bassline Smith ft. Fleur - One In A Million (Tantrum Desire Remix)
14. Ellie Goulding - Hanging On (Sigma Remix)
15. Brookes Brothers - Carry Me On
16. Majestic ft. Jungle 70 - Creeping In the Dark (Danny Byrd Remix)
17. Major Look - Too Late
18. London Grammar - Strong High (Contrast Remix)
19. Sander Van Doorn - Neon (Ed Rush Remix)
20. Danny Byrd - Bad Boy (Back Again) (Original Mix)
21. Daahype - Go Wi Dat
22. Wideboys - Addicted to the Bass (Daahype's Trap Mix)
CD2:
01. Dizzee Rascal - Bassline Junkie (Radio Edit)
02. Lethal Bizzle - Party Right Friend (Within Remix)
03. Wretch 32 Feat. Jacob Banks - Doing OK (DEVolution Remix)
04. Lana Del Ray - Blue Jeans (MK Darkest Mix)
05. Storm Queen - Look Right Through (Jamie Jones Mix)
06. Artful Dodger Feat. Zoe Kypri - No I Turn You On (Disclosure Remix)
07. Foxes - Beauty Queen (Jack Beats Remix)
08. Friend Within - The Renegade (Original Mix)
09. Mike Mago - The Show
10. A*M*E - Heartless (Jakwob mix)
11. Shadow Child - 23 Zinc (VIP Mix)
12. Maya Jane Coles - Everything (Breach mix)
13. Wideboys feat. Haydon - Preacher (Original Mix)
14. Chris Malinchak - So Good To Me (MK Remix)
15. Liam Bailey - When Will They Learn (Chase & Status mix)
16. Foamo ft. Lotti - Releas
17. Ray Foxx - Butterflies (Wookie Remix)
18. Atumpan - The Thing Todd Edwards (Radio Edit)
19. Whey Baq - Love For the Streets
20. Dusky - Nobody Else (Original Mix)
21. Dillon Francis feat. T.E.E.D - Without You (Original Mix)
22. Sub Focus - Tidal Wave Shadow (Child Remix)
CD3:
01. Calvin Harris ft. Tinie Tempah - Drinking From The Bottle
02. Sebastian Ingrosso & Tommy Trash - Reload
03. Armin Van Buuren - This is What It Feels Like (David Guetta Remix)
04. Zedd - Clarity (Tiesto Remix)
05. Swedish House Mafia - Don't You Worry Child
06. Krewella - Alive (Hardwell Remix)
07. Bastille - Pompeii (Monsieur Adi Mix)
08. Nicky Romero & Nervo - Like Home
09. Empire of The Sun - Alive David (Guetta Remix)
10. Afrojack ft. Chris Brown - As Your Friend
11. Alex Metric & Jacques Lu Cont feat. Malin - Safe With You (Original Mix)
12. Sonny Wharton - Raindance (Wideboys mix)
13. Laidback Luke ft. Majestic - Pogo (Original Mix)
14. Wideboys - Chip Funk
15. Hardwell - Three Triangles (Losing My Religion)
16. Dada Life - Boing Clash Boom (Bingo Players Remix)
17. Jacob Plant - Fire (Original Mix)
18. Pryda - Layers (Original Mix)
19. Russ Chimes - Turn Me Out
20. Wideboys - Wonky
21. Stadium - Magnus Sonus
22. Hervé - Lose Control (Taiki & Nulight mix)