Am 11.10.2013 erreicht uns eine neue Ausgabe der "A State of Trance Classics" Reihe. Mit der Vol. 8 kommt ein vier CDs-Box-Set auf den Markt, welches 36 Trance-Klassiker umfasst. Das Besondere an der vorliegende Compilation: Alle Tracks sind in ausgespielten, ungemixten Versionen auf den Silberlingen gepresst.
Das erklärt auch die geringe Titelanzahl auf der "A State of Trance Classics Vol.8". Die 36 Top-Titel der Protagonisten sind Meister des Trance/Progressive-Genres. Angefangen bei Armin van Buuren und Above & Beyond über Chicane und Ferry Corsten bis Paul van Dyk und Tiesto.
Des Weiteren befinden sich Titel von Künstlern wie zum Beispiel: Aly & Fila, Ratty, Yves Deruyter, BT feat. Jes - Every Other Way, M.O.R.P.H., Tiësto vs Junkie XL auf dem Sampler. Eine Menge Klassiker und Evergreens des Trance-Genre. Käufer dieses Box-Sets bekommen ab mitte Oktober also eine kleine Zeitreise durch die Trance-Geschichte geliefert.
Die vollständige Tracklist haben wir hier für euch am Start. Trance-Fans, Nostalgiker sowie Dance-Musik Liebhaber jenseits der 30, die mit diesem Sound aufgewachsen sind, aufgepasst! Die 21,99€ für die vier CDs sind sicherlich gut investiertes Geld.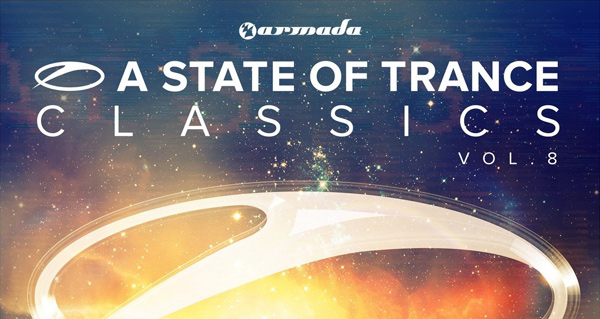 Tracklist: A State of Trance Classics Vol .8
CD1:
1. Sonic Inc. - Taste Of Summer (Fire & Ice Vital Remix)
2. Armin van Buuren feat. Justine Suissa - Simple Things
3. Delerium feat. Leigh Nash - Innocente (Tiësto Remix)
4. Ferry Corsten - Twice In A Blue Moon
5. Traveller - Bright Sign
6. Ørjan Nilsen - La Guitarra
7. King of Clubs - Revelation (Airwave Remix)
8. C.M. - Dream Universe (After On Sunday George's Mix)
9. Aly & Fila - Lost Language
CD2:
1. Paul van Dyk feat. Second Sun - Crush (PvD Original Mix)
2. Ratty - Sunrise
3. Dash Berlin - Till The Sky Falls Down
4. Rapid Eye - Stealing Beauty (R.E.mix)
5. Oliver Lieb - Subraumstimulation (Push Remix)
6. Yves Deruyter - Feel Free
7. Sunlounger - White Sand (DJ Shah's Original Mix)
8. The Blizzard - Kalopsia
9. Mark Norman - Overkill (Intro Mix)
CD3:
1. BT feat. Jes - Every Other Way (Armin van Buuren Remix)
2. Above & Beyond presents Tranquility Base - Oceanic
3. Chicane - Autumn Tactics (The Thrillseekers Remix)
4. Kyau & Albert - Velvet Morning (Aalto Remix)
5. Midway - Amazon
6. Airwave - Innerspace
7. Interstate - I Found You
8. Rex Mundi vs Ronski Speed feat. Sir Adrian - The Perspective Space (Markus Schulz Mash Up)
9. Re:Locate - Typhoon
CD4:
1. Gaia - Tuvan
2. Tiësto vs Junkie XL - Obsession (Frank Biazzi Remix)
3. John O'Callaghan feat. Sarah Howells - Find Yourself (Cosmic Gate Remix)
4. Young Parisians - U Write The Rules (Solarstone Remix)
5. Perry O'Neil - Wave Force
6. M.O.R.P.H. - Maximum Overdrive (Benicio Remix)
7. Georgia - Ode To '99
8. Mike Koglin vs DJ Uto - Yoake
9. Thomas Bronzwaer - Close Horizon