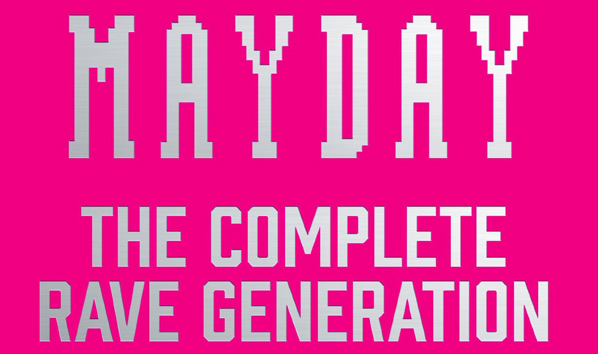 "Mayday - The Complete Rave Generation" - Zum Download / Kaufen klicken.
Am 18.10.2013 erscheint via KONTOR RECORDS mit der "Mayday - The Complete Rave Generation" eine 4 CD-Edition mit dem Sound der legendären Veranstaltung in ener Box. Seit nunmehr 22 Jahren findet der berühmteste Indoor-Rave Deutschlands statt. Zu Anfang wurde noch in Berlin gefeiert. Doch schon seit vielen Jahren ist die Dortmunder Westfalenhalle Veranstaltungsort für die Mayday.
Mit der erscheinen Compilation erhalten Käufer eine kleine Zeitreise durch die musikalische Geschichte der Mayday. Viele Klassiker und Hit befinden sich unter den 80 Tracks der Eidition. "Kernkraft 400" ,"Born Slippy"
oder "Cafe Del Mar" sind nur einige der Titel, die euch erwarten. Zu einem Verkaufspreis von nur 15,99€ kann man bei dieser Compilation nicht viel falsch machen. Übrigens wird es zum Release ein limitiertes Vierfach-Vinyl mit 16 Titeln geben!
Die "Mayday - The Complete Rave Generation" ist quasi eine Best-of Sammlung und liefert euch Tracks von Künstlern wie zum Beispiel: DJ Hooligan, The Prodigy, Marusha, Moby, Westbam, Blank & Jones, Tiësto, Paul van Dyk, Lützenkirchen, Benny Benassi, Lambda, Oliver Koletzki, Paul Kalkbrenner und viele mehr.Auf der vierten CD befinden sich dann die Hymnen der "Members of Mayday". Hier jagt ein Highlight das nächste. Um ganz ehrlich zu sein: Diese Compilation ist ein Pflichtkauf und definitives Muss!
Von House über Deep House bis hin zu Trance und Techno ist alles dabei. Auch einige moderne Klassiker befinden sich auf der Sammlung. Was genau in Detail mit dabei ist, seht ihr im folgenden Tracklisting:
CD1:
01. Underworld - Born Slippy
02. DJ Hooligan - The Culture
03. Jens - Loops & Tings (Fruit Loops Mix)
04. Cherrymoon Trax - The House Of House
05. Zombie Nation - Kernkraft 400
06. Gary D. & Timo Maas – Die Herdplatte 100°
07. Final Fantasy – Controlling Transmission
08. Jones & Stephenson - The First Rebirth
09. The Prodigy - Out Of Space
10. Yello & Jam & Spoon – You Gotta Say Yes To Another Access
11. Legend B. - Lost In Love
12. RMB - Redemption
13. Moby – Feeling So Real (Westbam Remix)
14. Marusha – It Takes Me Away
15. Raver's Nature – Take Off
16. Infrequent Oscillation – Burning Phibes
17. Sunbeam - Outside World
18. Westbam – Wizards Of The Sonic
19. Microwave Prince – I Need Your Love
20. Komakino – Outface
CD2:
01. Pete Lazonby – Sacred Cycles
02. Future Breeze – Why Don't You Dance With Me
03. Energy 52 – Cafe Del Mar (Three 'N' One Remix)
04. Space Frog - Lost In Space (Time Slip)
05. Humate – Love Stimulation (Love Mix)
06. ATB - 9 PM (Till I Come)
07. Three 'N' One presents Johnny Shaker – Reflect
08. Blank & Jones – Sound of Machines
09. Darude – Sandstorm
10. Paul van Dyk – For An Angel (E–Werk Club Mix)
11. Tiësto – Adagio For Strings
12. Marmion – Schöneberg
13. Nikolai – Ready To Flow
14. Blue Alphabet – Cybertrance
15. Storm - Storm
16. Yves Deruyter – Calling Earth
17. Quench – Dreams
18. Push – Universal Nation
19. Mass In Orbit – Connect
20. Liquid – Sweet Hamony
CD3:
01. Lützenkirchen – 3 Tage Wach
02. Jaydee – Plastic Dreams
03. Wink – Higher State Of Consciousness (Original Tweekin Acid Funk Mix)
04. Lambda – Hold On Tight (Nalin & Kane Remix)
05. Kissogram vs Woody – If I Had Known This Before (Woody's Fumakilla XTC–Xpress Mix)
06. Malaria! – Kaltes Klares Wasser (versus Chicks On Speed)
07. Oliver Koletzki – Mückenschwarm
08. Paul Kalkbrenner – Altes Kamuffel
09. Moguai – U Know Y
10. Elektrochemie LK - Schall (Thomas Schumacher Mix)
11. Oxia – Domino
12. Team Deep – Morninglight
13. Tomcraft – Loneliness
14. Benny Benassi pres. The Biz – Satisfaction
15. AWeX – It's Our Future
16. Mark N–R–G – Don't Stop
17. Dave Clarke – Wisdom To The Wise (Red 2)
18. Drax Ltd. II – Amphetamine
19. DJ Misjah & Groovehead – Access
20. Emmanuel Top – Turkish Bazar
CD4:
01. Never Stop
02. Perfect Machine
03. Ravemobil
04. Make My Day
05. Massive Moments
06. Prototypes
07. Troopa Of Tomorrow
08. Culture Flash
09. 10 In 01
10. Datapop
11. Soundtropolis
12. Save The Robots
13. Sonic Empire
14. Great
15. The Bells Of Reformation
16. We Are Different
17. Rave Olympia (Enter The Arena)
18. Religion
19. Judgement Day
20. The Mayday Anthem