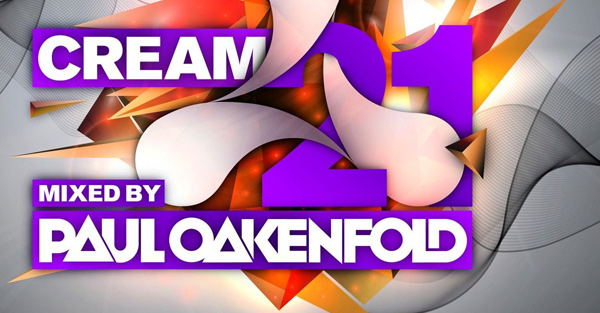 Seit nunmehr 21 Jahren existiert das Cream auf Ibiza. Zur Feier dieses Anlasses kommt eine Compilation auf den Markt, die niemand geringeres als DJ-Legende Paul Oakenfold gemixed und zusammengestellt hat. Wir erleben dabei eine Reise durch 21 Jahre Clubkultur und feinster House Musik.
Der Superclub auf Ibiza - das Cream - steht seit zwei Generationen für Party und Lifestyle. Paul Oakenfold war als DJ essentiell daran beteiligt, dass der Sound und die Musik der balearischen Insel bis nach England transportiert wurde. Der
Szeneclub Hacienda in Manchester gilt hier als Vorreiter. Dort begann 1988 der UK-Acid und prägte den dortigen "Summer of Love".
Für Oakenfold war es der Beginn einer großen Karriere. Er remixte Künstler wie Madonna, The Rolling Stones, Justin Timberlake oder Michael Jackson. Ausserdem komponierte er die Soundtracks zu den Filmen "The Bourne Identity", "Matrix Reloaded", "Collateral".
Auf "Cream 21" mixt er nun unvergessene Dance-Klassiker zu zwei aussergewöhnlichen DJ-Sets, die er mit eigenen Hits und Remixes verfeinert. Mit dabei sind unter anderem Tracks von Künstlern wie zum Beispiel: Adrian Lux, Dirty South, Bruno Mars, Stoneface & Terminal, Motorcycle, Markus Schulz, Rank 1 und viele mehr. Zu einem Preis von nur 17,99€ könnt ihr auf jeden Fall bedenkenlos zuschlagen. Vor allem, wenn man ein Fan guter, alter Klassiker ist. Die vollständige 42 Titel umfassende Tracklist gibt es hier:
CD1:
01. Adrian Lux ft. Dante - Burning (Topher Jones Remix)
02. Nadia Ali, Starkillers & Alex Kenji - Pressure (Alesso Remix)
03. Paul Oakenfold & Disfunktion ft. Spitfire - Beautiful World
04. Bruno Mars - Locked Out Of Heaven (Paul Oakenfold Remix)
05. Leama - Requiem For A Dream (Paul Oakenfold Remix)
06. Dannic - Ignite
07. Filth & Splendour ft. Marisa - Gold (Paul Oakenfold Remix)
08. Paul Oakenfold ft. J Hart - Touched By You (Mike Hawkins Remix)
09. Dirty South ft. Joe Gil - Until The End (Dirty South Remix)
10. East & Young ft. Tom Cane - Starting Again (Club Mix)
11. Matt Darey Presents Li Kwan - Point Zero (Leama & Moor Remix)
12. Julie Thompson with Super8 & Tab - Your Secret's Safe (Tom Fall Remix)
13. Marcus Shossow - Reverie
14. Stoneface & Terminal - Stuck In A Loop
15. Orjan Nilsen - Xiing
16. Paul Oakenfold - Southern Sun (Moe Aly Remix)
17. LTN - A Path To Nowhere (Jerome Isma-Ae Remix)
18. Motorcycle - As The Rush Comes (Gabriel & Dresden Sweeping Strings Remix)
19. Planet Perfecto - Bullet In The Gun (Eddie Halliwell Remix)
20. Push - Universal Nation (Orjan Nilsen Remix)
21. James Dymond - Overthrow& (Protoculture Remix)
CD2:
01. A-Mase - Destination (Omauha Remix)
02. Speed Limits & T4L - Solar Guitar
03. Hard Fi - Fire In The House (Planet of Sound Remix)
04. Alex Metric & Jacques Lu Cont ft. Malin - Safe With You (Dub Mix)
05. Alex O'Rion - Don't Look Back
06. Planet Perfecto ft. Grace - Not Over Yet (Max Graham vs Protoculture Remix)
07. Delerium ft. Sarah McLachlan - Silence (Filterheadz Remix)
08. Markus Schulz ft. Justine Suissa - Perception
09. Tilt vs Paul van Dyk - Rendezvous (Orkidea Remix)
10. Jace Williams - Hope & Pray
11. Arty - Believe In Me (Instrumental)
12. Mansun - Wide Open Space (Perfecto Mix)
13. Rank 1 vs. M.I.K.E. - Elements Of Nature
14. Dave Gahan - Dirty Sticky Floors (Junkie XL Vocal Remix)
15. Kenneth Thomas - Heart On Fire (Vocal Mix)
16. Paul Oakenfold ft. Ryan Tedder of OneRepublic - Not Over (Robert Vadney's 3am Goodbye Mix)
17. Substate - Panama (Mac & Monday Remix)
18. Yahel & Liya - Creatures (Paul Oakenfold Remix)
19. L.S.G. - Netherworld (Oliver Prime Remix)
20. Planet Perfecto Knights - ResuRection (Paul Oakenfold Full On Fluoro Mix)
21. C.J. Bolland - The Prophet