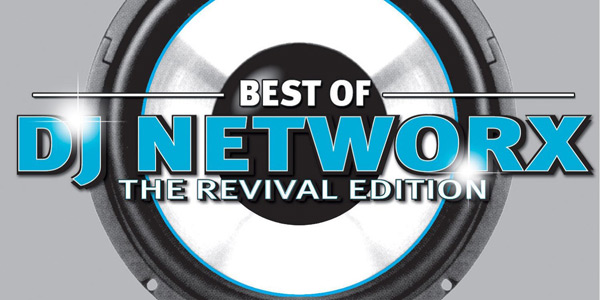 Am 13.12.2013 erscheint für alle DJ Networx Sammler und Fans des Harder Styles sowie Tunnel-Tracks-Nostalgiker die Best of DJ Networx - The Revival Edition. Eine Sammlung wahrer DJ Networx Klassiker. Auf zwei CDs bekommen Käufer der 19,99€ teurer Compilation 44 Titel geliefert.
Im Jahr 1998 begann die Zeitrechnung der DJ Networx. Seit jener Tage bestand die Zusammenarbeit mit SONY Music und damals ahnte noch niemand, die selbst 15 Jahre später die Sampler-Reihe fortgesetzt
wird. Und genau aus diesem Grund feiert Tunnel mit der Revival Edition dieses Jubiläum. Patrick Bunton und die Jungs der G-Style Brothers hatten die Aufgabe die Besten Tracks aus den letzten Jahren zusammen zu tragen.
Die erste CD, die von Patrick Bunton gemixed wurde, bringt uns Klassiker-Tracks wie zum Beispiel "Starsplash - Cold As Ice", "Public Domain - Operation Blade", "Scooter - Nessaja" oder auch "Rocco - Everybody". Allesamt riesige Hits zu ihren jeweigen Zeiten. Vor allen Raver jenseits der 25 werden sich an diese Tracks gut erinnern...
Auf der zweiten CD geht es dann härter zur Sache. Die G-Style Brothers mixen Titel von Künstlern wie Tatanka meets Headhunterz, Coone, Tuneboy, Donkey Rollers, The Beholder & Zany oder Technoboy feat. Shayla zusammen.
Die Best of DJ Networx - The Revival Edition kann ab sofort vorbestellt werden. Die vollständige Tracklist haben wir hier für euch am Start.
CD1:
01. Starsplash - Cold As Ice (Club Mix)
02. Public Domain - Operation Blade (Bass in the Place)
03. Niels de Vries - 12 Inch (Rocco vs. Bass-T Rmx)
04. Barbarez feat. Mike Rossi (Hamburg Rulez)
05. Scooter - Nessaja (Extended)
06. Rocco - Everybody (Club Mix)
07. Starsplash - Wonderful Days (2001 Remix)
08. Patrick Bunton - Here I Am (Club Mix)
09. Kian Keen - 24 Hours (Original Club Mix)
10. The Real Booty Babes - Derb (Club Mix)
11. The Hitmen - Energy Is You (Vocal Club Mix)
12. Shaun Baker - Xplode 2 (Backside Artist Mix)
13. Svenson & Gielen - Twisted (Original Single Edit)
14. DJ Dean - Ballanation (Episode 2)
15. Megasonic - Outside World 2k12 (Accuface High Energy Mix)
16. United Beats - Por que no (DJ Dean Remix)
17. DJ Merlin & NXP - Deep In My Mind (Extended Mix)
18. Megara vs DJ Lee - Musical Society (Club Mix)
19. DJ Yanny - Rhythm Is A Bass (Hands Up Club Mix)
20. DJ Merlin & DJ C-Bass - No Alternative (Extended Mix)
21. Bunton Beats - Sweetest Song
22. DJ Zealot - Charge (Club Mix)
CD2:
01. Builder - Her Voice (Super Bass Mix)
02. 2 Best Enemies - Les Drums (Tby Remix)
03. Tatanka meets Headhunterz - Call It Music)
04. The Nasty Boyz - Angel (Original Mix)
05. Coone - Words From The Gang (D-Block & S-Te-Fan Rmx)
06. Dozer - The Church Of The Dark Side (Original Mix)
07. Noisecontrollers - Venom (Original Mix)
08. Zatox - Tanz Elektrik (Hard Mix)
09. DJ Zany - Pure (Original Mix)
10. Donkey Rollers - Evil
11. Deepack - The Prophecy (Original Mix)
12. Southstylers - Pwoap!
13. Tuneboy - Dirty
14. Gang Bang Society 2006
15. The Pitcher - Banging (Original Mix)
16. Bulldozer Project - Arise (The Beholder & DJ Zany Rmx)
17. Balistic & Zero Vision - Upgrade The Noize
18. The Beholder & Zany - Bleeding For The Harder Style
19. Technoboy feat. Shayla - Oh My God (Technoboy's Callsheet)
20. Hunter - I Shot The Blender (Technoboy Remix)
21. DJ Machine @ Wallringtunnel - 7 Days 1 Week 2006 (DJ Brush Time Tunnel 11 Remix)
22. G-Style Brothers - We Bring You Bazz (In Your MF Faze Mix)