Wer Fan und / oder Anhänger des dicken Festival-Sounds ist, sollte sich die "Alva Edison - 4 To The Floor" genauer ansehen bzw. anhören. Mit drei unterschiedlichen Mixen ist der Titel vor kurzem an den Start gegangen. Es erwartet euch fetter Bass, eine martialische Hookline und ein Trap-Remix eines Bonus-Tracks. Aber jetzt erstmal alles der Reihe nach.
Original Mix
Das Original der "Alva Edison - 4 To The Floor" reiht sich stilistisch perfekt in Titel wie "Tsunami" oder diverse Produktionen von Acts wie den Bassjackers oder von Martin Garrix ein. Der Breakpart mit einer epischen Melodie gespielt, die sich kontinuierlich zum Drop hin steigert. Dort wartet dann jede Menge Bass auf uns. Die Kick hämmert bis zum Anschlag, die Hookline mit ihre Supersaw drückt uns direkt ins Gesicht. Wer auf Festival EDM Sound steht, ist hier an der richtigen Adresse.
Roxor Remix
Eine ähnliche Richtung wie der Original Mix schlägt der Roxor Remix ein. Das im Tripplet gespielte Argegio im Breakpart hat mit seinen SID-Sound seinen ganz eigenen Charakter. Auch hier wird eine gute Steigerung zum Mainpart aufgebaut. Im Mainpart erwartet uns musikalisch eine gesunde Mischung aus Hardwell und W&W. Einziges Manko: sobald die Kick aufhört zu spielen, wird die Hookline sehr laut. Diesen Umstand werten wir aber einfach mal als künstlerlische Freiheit ;)
SystemD Remix zur "Magic Key"
Der Remix von SystemD zum Bonus-Track "Magic Key" ist Trap pur mit einer gutren Portion Electro-House. Das Drumming entstammt nämlich den zur Zeit so angesagten Genre Trap, während die Synthie-Sounds eher aus dem Electro-Genre entnommen wurden. Beides zusammen ergibt eine interessante Mischung. Unbedingt diesen Mix checken!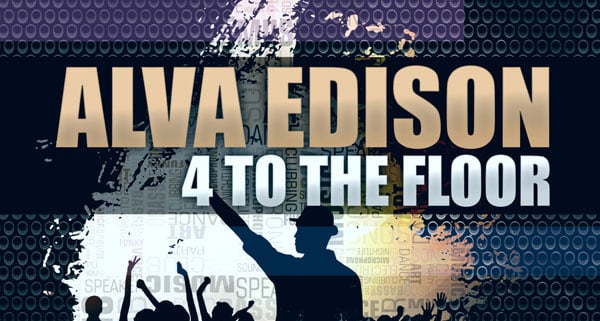 Fazit: Die "Alva Edison - 4 To The Floor" ist sehr solider und gut gemachter Festival bzw. Bigroom EDM. Natürlich wird dieses Release nicht die Welt verändern, hat aber durchaus das Potential in dem einen oder anderen DJ-Set unterzukommen. Die Qualität stimmt und wer auf eine gesunden Bassdusche steht, ist hier am richtigen Platze.