Der 25. Juli ist Startschuss für die "Summer Club Charts 2014". Auf drei CDs gibt es 60 Titel, die das EDM-Herz rundum glücklich machen könnte. Die erste Ausgabe der neuen Sampler-Reihe bietet dabei nach eigener Aussage das Beste und Angesagteste aus den Clubs und Charts. Egal ob Ibiza, Saint Tropez oder Sardinien - die Tracks auf dieser Compilation finden dort statt. Jede der drei CDs enthält einen DJ-Mix. Welche Songs sich im Detail auf der Tracklist befinden, erfahrt ihr im folgenden Artikel.
Die erste CD - Kommerzieller House
Man merkt schnell, dass das Ziel für diesen Sampler die Compilation-Charts sein werden. Songs wie "Dj Antoine - - Light It Up", "Mark Bale feat. Jason Caesar - We Don't Care" oder "Cascada - Blink" geben die Richtung vor. Zumindest die, der ersten CD. Hier ist kommerzieller Party-House angesagt. Die Titel dieser CD finden in den Großraumdiskotheken ebenso statt wie im kommerziellen Radio. Im Weiteren haben Künstler wie die Italo Brothers, Davis Redfield, Cassey Doreen feat. Pit Bailay oder Pulsedriver ihre Werke hier versammelt. Teilweise wirkt die Songauswahl auf dieser CD jedoch nicht mehr ganz so tau frisch. Viele Songs haben ihren musikalischen Zenit bereits vor Wochen oder Monaten überschritten.
Die zweite CD - EDM,- Bigroom & Festival-House
In eine andere Richtung geht es musikalisch auf der zweiten CD. Hier finden wir hauptsächlich Produktionen, die im typischen "Tomorrowland-Style" produziert worden sind. Genre-Hits wie "Hardwell - Everybody Is in the Place", "W&W - Bigfoot" oder "Armin van Buuren - Ping Pong" stehen hierfür Pate. Die Trackauswahl auf dieser CD ist guter Durchschnitt. Allein der Umstand, dass auch hier viele Tracks zu finden sind, die längst veröffentlicht worden sind, und schon alt sind, trübt etwas die Qualität der "Summer Club Charts 2014". So haben z.B. die Tracks "Jack Holiday & Sash! - Encore Une Fois" oder "Bryce - Freefall Anthem" längst Follow-Up Singles am Start, die momentan die Charts rocken...
Große Hits aus dem Deep-House Genre finden wir auf der dritten Silberscheibe. Geniale Werke wie "Lissat & Voltaxx feat. Marc Fisher - Groovejet", "Nora En Pure - You Are My Pride" im Croatia Squad Remix oder "Chris Avedon feat. Lauter Leben - Es Ist Soweit" geben hier den Ton an. Postivi: viele unbekanntere Produktionen haben hier auf die Tracklist geschafft. Die Gefahr, dass man den einen oder anderen Titel bereits überhört hat - wie es auf CD1 und CD2 der Fall sein könnte - besteht hier eher weniger. Sehr gute Songauswahl!
Kaufen oder nicht kaufen?
Die Namen der Künstler, die ihre Songs und Tracks auf der "Summer Club Charts 2014" versammelt haben, liest sich ausgesprochen gut. Viele große Hits aus den Dance,- und Clubcharts sind hier anzutreffen. Wem es nichts ausmacht, dass die Songauswahl stellenweise nicht mehr ganz so aktuell ist, bekommt mit dieser Compilation ein solides Box-Set, dass seinen Preis wert ist. Vor allem die breit gefächerten Genres sind interessant. Wer allerdings hohen Wert auf Aktualität legt, sollte lieber zu einer "Club Sounds" oder "Kontor - Top of the Clubs" greifen.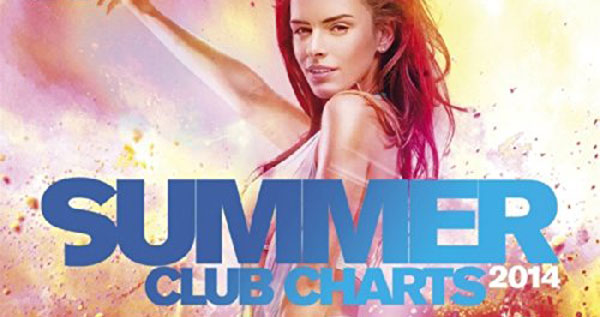 Name: Summer Club Charts 2014
Erscheinungsdatum: 25.07.2014
Anzahl-CDs: 3 (60 Tracks)
Genre: Commercial House, Bigroom EDM, Deep-House
Label: I Love This Sound (Edel)
Preis: 18,99€ (hier günstig kaufen)
Ähnliche Produkte: Club Sounds - Summer 2014 | Kontor Top of the Clubs Vol.63
Tracklist: Summer Club Charts 2014
CD1:
01. DJ Antoine - Light It Up (DJ Antoine vs. Mad Mark 2K14 Radio Edit)
02. Bodybangers feat. TomE & Jaicko Lawrence - Love Come Down (Radio Edit)
03. Luca Hänni & Christopher S. - I Can't Get No Sleep (Radio Mix)
04. Cascada - Blink (Video Edit)
05. DJ Shog - DNA (Vocal Edit)
06. EDX feat. Sam Obernik - Angry Heart (Album Version)
07. Davis Redfield - Wlftm (Radio Edit)
08. Sean Finn - Cold as Ice (Original Radio Mix)
09. Mark Bale feat. Jason Caesar - We Don't Care (Original Edit)
10. Gimbal & Sinan - Irresistible (Radio Edit)
11. Gordon & Doyle vs. Otto Le Blanc feat. Lonesound - Overdose (Club Edit)
12. Dirty Disco Youth - Harmonize (Radio Mix)
13. ItaloBrothers - Up 'n Away (Video Edit)
14. Pat Farrell feat. John Anselm & Big Daddi - Life's Too Short (Radio Mix)
15. Christopher S & LeCrema feat. Jamayl Maleek - Rebel's Mind (Radio Mix)
16. Cassey Doreen feat. Pit Bailay - Love Takes Over (Original Edit)
17. Darius & Finlay feat. Jen - I Am Not a Millionaire (Bodybangers Remix Edit)
18. Tavengo - Showdown (Radio Edit)
19. Klubbheads - Klubbhopping (2014 Radio Edit)
20. Pulsedriver - Do You Want It Right Now (Single Mix)
CD2:
01. Hardwell - Everybody Is in the Place (Radio Edit)
02. W&W - Bigfoot (Radio Edit)
03. Hook N Sling feat. Karin Park - Tokyo By Night (Axwell Remix Radio Edit)
04. Mike Candys - Anubis (Original Mix)
05. Armin van Buuren - Ping Pong (Radio Edit)
06. Oceana - Thank You (DJ Sergey Fisun Radio Edit)
07. Andrew Bennett - Alive (Radio Edit)
08. Hard Rock Sofa & Skidka - Arms Around Me (Original Mix)
09. Jesse Voorn - Drumz (Radio Edit)
10. Rio Vegas & Eran Hersh - Knockout (Radio Edit)
11. Laidback Luke & Peking Duk - Mufasa (Radio Edit)
12. BlasterJaxx - Mystica (Edit)
13. R3hab and Lucky Date - Rip It Up (Nicky Romero Edit)
14. Deniz Koyu - Ruby (Radio Edit)
15. Mike Candys - Carnaval (Original Mix)
16. Jack Holiday & Sash! - Encore Une Fois (Dany Lorence & Jack Holiday Radio Edit)
17. Bryce - Freefall Anthem (Radio Edit)
18. Vol2Cat - Grey Goose (Bastian Van Shield's Festival Mix)
19. Tujamo - Hey Mister (Original Mix)
20. Patric La Funk & DBN - Quick Quack (Club Radio Edit)
CD3:
01. Faul & Wad Ad vs. Pnau - Changes (Radio Mix)
02. Lissat & Voltaxx feat. Marc Fisher - Groovejet (Andrey Exx & Fomichev Radio Edit)
03. Route 94 - Tell You Why (Edit)
04. Milky Chance - Stolen Dance (Flic Flac Radio Edit)
05. Loui & Scibi feat. Nuwella - Your Love (Touch & Go Club Mix)
06. Matt Caseli & Terry Lex - Keep On Reachin (Original Mix)
07. Alex Kenji - Taurus (Manuel De La Mare Remix)
08. Milk & Sugar - Tell Me Why (Ben Delay vs. Milk & Sugar 2014 Re-Fix)
09. Me & My Toothbrush - Sundown (Croatia Squad Radio Mix)
10. Tiff & Trashkid - Serious (Original Mix)
11. Calippo - Turn Away (Original Mix)
12. Platinum Doug - Serious Moods (Radio Mix)
13. Alex Del Toro & Paolo Solo - Can't Stop This Feeling (Original Mix)
14. Nora En Pure - You Are My Pride (Croatia Squad Remix)
15. Kraak & Smaak - The Future Is Yours (Original Mix)
16. Rosario Galati - Deep in My Chest (Vanilla Ace & Dharkfunkh Remix)
17. Christian Alvarez feat. Jo'leon Davenue - Hands In The Air (Karol XVII & Mb Valence Remix)
18. Hanna - Sometimes (Karol XVII & Mb Valence Remix)
19. Promonova - Turn It Down (Original Mix)
20. Chris Avedon feat. Lauter Leben - Es Ist Soweit (Martin Eigenberg & Soeren Lindberg Remix)