Der 22. August 2014 steht unter anderem im Zeichen der Club Sounds Vol. 70. An diesem Tag erscheint eine weitere Ausgabe der erfolgreichsten und größten Compilation Europas. Mit der 70. Ausgabe der Club Sounds gibt es wieder aktuellste Musik, die sowohl die Dance-Charts, als auch die Playlisten der DJ rocken. Alles was Rang und Namen hat, ist hier vertreten. Die vollständige Tracklist gibt es hier für euch.
Die erste CD - kommerzielle Chart-Hits
Auf der ersten CD der Club Sounds 70 gibt es jede Menge Chart-Hits zu entdecken. Los geht es mit den Sommerhits 2014 "Lilly Wood & The Prick And Robin Schulz - Prayer In C (Robin Schulz Remix)" und "Martin Tungevaag - Wicked Wonderland". Aber auch die Latino Nummer "Psirico & Pitbull - Lepo Lepo" macht Lust und Laune auf den Sommer. "Alle Farben Feat. Graham Candy - She Moves (Far Away)" oder "Route 94 Feat. Jess Glynne - My Love" sind weitere Highlights auf dieser CD. Das ist aber bei weitem noch nicht alles. Songs von Acts und Künstlern wie Duke Dumont, Tiësto, Secondcity oder Avicii runden die Tracklist ab. Extrem gut gelungene Songauswahl. Mehr geht kaum!
Die zweite CD - Bigroom EDM & Club Sound
Wer es clubbiger mag, sollte einen Blick auf die zweiten CD werfen. Die Club Sounds 70 überzeugt auch hier auf ganzer Linie. Die Vocal-Version von "Boneless" macht den Anfang. Steve Aoki, Chris Lake & Tujamo Feat. Kid Ink lassen grüßen. "R.I.O. Feat. U-Jean - One In A Million", "Mike Candys - Anubis" oder "Michael Mind Project - Ignite" geben die weitere musikalische Richtung vor. Aber auch unveröffentlichtes Material ist hier zu finden. "Calmani & Grey - Indestructible" ist ein Beispiel hierfür. Man darf also gespannt sein.
Die dritte CD - mixed by Stefan Dabruck
Traditionell wird die dritte CD der "Club Sounds Vol. 70" an ein externes Label vergeben. Dieses Mal erhielt weplay Records die Ehre. Label-Chef Stefan Dabruck mixte die dritte CD. Mit seinen 20 Titeln liefert er einen hervorragenden DJ-Mix ab. Eine coole Mischung aus bekannten Hits und unbekannteren Titeln ist hier angesagt. "Chris Avedon Feat. Lauter Leben - Es Ist Soweit", "Faul & Wad Ad Vs. Pnau - Changes" oder "Jean Elan - Aaargh!" sind nur drei Beispiele für die hohe Qualität dieser CD. Freut euch drauf!
Kaufen oder nicht kaufen?
Die Club Sounds zählt mittlerweile zu den meistverkauftesten Samplern Europas. Lange hat sie Compilations wie beispielsweise eine Future Trance hinter sich gelassen. Und das nicht ohne Grund. Die hochwertige Songauswahl und das Gesamtkonzept stimmen hier zu 100%. Wer auf der Suche nach aktuellsten Tracks in Kombination mit Hit-Faktor und Coolness ist, wird hier fündig. Die "Club Sounds Vol. 70" bietet eine musikalische Reise vom feinsten!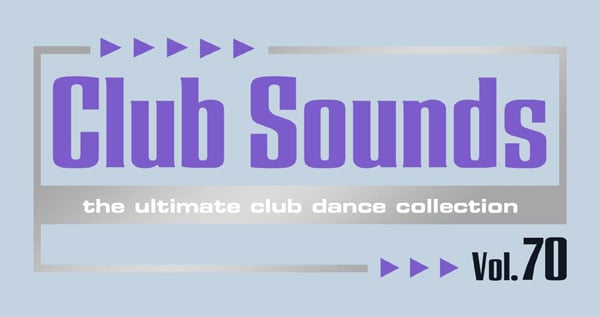 Name: Club Sounds Vol. 70
Erscheinungsdatum: 22.08.2014
Anzahl-CDs: 3 (64 Tracks)
Genre: House, Electro, Prgressive House, Deep-House
Label: Sme Media (Sony Music)
Preis: 19,99€ (Hier günstig kaufen)
Ähnliche Produkte: Kontor Top of the Clubs Vol.63

Tracklist: Club Sounds Vol. 70
CD1:
01. Lilly Wood & The Prick And Robin Schulz - Prayer In C (Robin Schulz Remix)
02. Martin Tungevaag - Wicked Wonderland
03. Psirico & Pitbull - Lepo Lepo
04. Avicii - Lay Me Down
05. Alle Farben Feat. Graham Candy - She Moves (Far Away)
06. Spada Feat. Hosie Neal - Feels Like Home (Red Velvet Dress) (Bakermat Remix)
07. Route 94 Feat. Jess Glynne - My Love
08. Klangkarussell - Netzwerk (Falls Like Rain)
09. Secondcity - I Wanna Feel
10. Duke Dumont Feat. Jax Jones - I Got U
11. Tiësto Feat. Matthew Koma - Wasted
12. Coldplay - A Sky Full Of Stars
13. Jam & Spoon Feat. Rea - Be. Angeled (Bodybangers Remix)
14. Bodybangers Feat. Victoria Kern & Tome - Stars In Miami
15. Amfree - Summertime
16. Ricky Martin Vida (Afrojack Remix)
17. 3logy - The Banjo
18. Mausi - My Friend Has A Swimming Pool
19. Kygo & Kyla La Grange - Cut Your Teeth
20. George Ezra - Budapest (Blondee & Hagen Remix)
21. Cro - Traum (Mrln Remix)
22. The Underdog Project - Summer Jam (Chassio Remix)
CD2:
01. Steve Aoki, Chris Lake & Tujamo Feat. Kid Ink - Delirious (Boneless)
02. R.I.O. Feat. U-Jean - One In A Million
03. Sean Finn Feat. Amanda Wilson - All Or Nothing
04. Mike Candys - Anubis
05. Ostblockschlampen Feat. Noubya - Fairyland
06. Benny Benassi Feat. Gary Go - Let This Last Forever (Makj Remix)
07. Michael Mind Project - Ignite
08. Ummet Ozcan - Smash!
09. Dubvision - Backlash (Martin Garrix Remix)
10. Foxes - Holding Onto Heaven (The Chainsmokers Remix)
11. Rebel Feat. Sidney Housen - Black Pearl (He's A Pirate)
12. Deorro & J-Trick - Rambo (Hardwell Remix)
13. Jetfire & Happy Enemies - Brazil
14. John Christian - Next Level (Nicky Romero Remix)
15. Micha Moor - Space (Vinai Remix)
16. K La Cuard - Vip (Forget Me Nots) (Avano Remix)
17. Dirty Dasmo - Save The Night (Holi Festival Of Colours Anthem)
18. Slazy Feat. J-Sun - Enemy (Axel F)
19. Calmani & Grey - Indestructible
20. Example - One More Day (Stay With Me)
21. Brooklyn Bounce & Steve Modana - Bounce Attack (Back To The 90s)
22. Dj Snake & Lil Jon - Turn Down For What
CD3: "Weplay Mixed By Stefan Dabruck"
01. Chris Avedon Feat. Lauter Leben - Es Ist Soweit (Christian Liebeskind Remix)
02. Faul & Wad Ad Vs. Pnau - Changes (Stefan Dabruck Remix)
03. Don Diablo & Matt Nash - Starlight (Could You Be Mine) (Otto Knows Remix)
04. Hook N Sling Feat. Karin Park - Tokyo By Night (Axwell Remix)
05. Patric La Funk - Salinas
06. Chocolate Puma Feat. Kris Kiss - Step Back
07. Mutiny Uk & Steve Mac Feat. Nate James - Feel The Pressure (Let Me Down) (Axwell & New_Id Remix)
08. Simon De Jano & Bottai - Delorean
09. Hard Rock Sofa & Skidka - Arms Around Me
10. Tujamo - Hey Mister
11. Jean Elan - Aaargh!
12. Sick Individuals & Axwell Feat. Taylr Renee - I Am (Deorro Remix)
13. Laidback Luke & D. O. D - Flashing Lights
14. Beenie Becker & Harvel B - Spartacus
15. Stefan Dabruck - Knowing
16. Jewelz & Sparks - Dope
17. Stefan Dabruck - Acid Phase
18. Brockman & Basti M Feat. Nic - Input (Falko Niestolik Mix)
19. Massive Ditto & Jeanxk - Deux (Stefan Dabruck Remix)
20. Juicytrax & Switch - Off Keep On