Nach der erfolgreichen ersten Ausgabe, erscheint am 08.08.2014 die Nächste. Mit der "Deep Sounds 2 (Very Best of Deep House)" kommt abermals ein hochwertiger Deep-House Sampler auf den Markt. 42 Titel bringen euch den kommerziellen Deep-Sound nach Hause. Chart-Hits und das besten aus den Playlisten angesagter DJs inklusive. Wir haben für euch geschaut, warum dieser Sampler so gut ist, und haben für euch die Tracklist sowie den offiziellen Minimix am Start.
Die erste CD - Chart Hits
Auf der ersten CD der "Deep Sounds 2 (Very Best of Deep House)" befinden sich viele Titel, die momentan im Radio laufen, überall in den Clubs und Diskotheken zu hören sind und aus den Deutschen Charts von ganz oben grüßen. Kommerzieller Deep-House ist in. Und genau diese angesagten Hits findet ihr hier auf der Tracklist. "Clean Bandit feat. Jess Glynne - Rather Be", "Bakermat - One Day (Vandaag)", "Duke Dumont feat. Jax Jones - I Got U" oder "Gorgon City feat. Mnek - Ready For Your Love" nicht internationale Chart-Hits und haben sich auf der "Deep Sounds 2" eingefunden. Aber auch Produktionen aus Deutschland sind auf dem Club Tools Sampler zu finden. "Chapeau Claque & Pretty Pink - Schöner Moment (Pretty Pink Remix)" oder "Aboutblank & Klc Feat. Andru Donalds - Life (Mann & Meer Remix)" sind nur zwei Beispiele hierfür. Insgesamt ist die Songauswahl extrem gut gelungen!
Die zweite CD - Club Tracks
Musikalisch wird es auf der zweiten CD etwas clubbiger. "Gecko" der Mega-Hit von Oliver Heldens macht den Anfang. Aber auch der Sommerhit "Martin Tungevaag - Wicked Wonderland" ist hier zu finden. "Chassio - Love You Louder", "Moby feat. Damien Jurado - Almost Home (Sebastian Edit)" oder die geniale "Edx - Breathin'" sind ebenfalls anzutreffen. Im Weiteren gibt es Songs, Mixe und Produktionen von Künstlern wie arov Stelar, Avicii, Nora En Pure, Nile Rodgers oder Lykke Li auf der zweiten CD der "Deep Sounds 2 (Very Best of Deep House)" zu entdecken. Auch hier stimmt die Songauswahl. Daumen hoch!
Kaufen oder nicht kaufen?
Wer sich die erste Ausgabe der "Deep Sounds" Reihe zugelegt hat, weiß wie hochwertig und gut dieser Sampler ist. Nicht anders sieht das bei der "Deep Sounds 2 (Very Best of Deep House)" aus. Auch hier stimmt die Qualität auf ganzer Linie. Die Songauswahl ist gelungen uns interessant. Alle 42 Tracks bewegen sich auf höchstem musikalischem Niveau. Wer bereit ist die 21€ für diese Compilation zu investieren, wird es sicherlich nicht bereuen. Kaufen!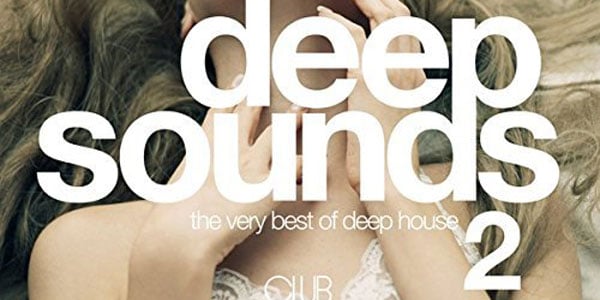 Name: Deep Sounds 2 (Very Best of Deep House)
Erscheinungsdatum: 08.08.2014
Anzahl-CDs: 2 (42 Tracks)
Genre: Deep-House, Club Tracks
Label: Club Tools (Edel)
Preis: 21,09€ (Hier günstig kaufen)
Ähnliche Produkte: Hed Kandi Ibiza 2014 | About: Berlin Vol: 7
Tracklist: Deep Sounds 2 (Very Best of Deep House)
CD1:
01. Clean Bandit feat. Jess Glynne - Rather Be
02. Bakermat - One Day (Vandaag)
03. Chapeau Claque & Pretty Pink - Schöner Moment (Pretty Pink Remix)
04. Duke Dumont feat. Jax Jones - I Got U
05. Gorgon City feat. Mnek - Ready For Your Love
06. Tiësto - Wasted (Mike Mago Remix)
07. Wankelmut feat. John Lamonica - Wasted So Much Time
08. Klangkarussell feat. Will Heard - Sonnentanz (Sun Don´T Shine)
09. Mr. Probz - Waves (Robin Schulz Edit)
10. Milky Chance - Down By The River (Flicflac Radio Edit)
11. Truls - Out Of Yourself (Roosevelt Remix)
12. Jam & Spoon feat. Rea Garvey - Be.Angeled (Jam & Amfree Rework)
13. Lost Frequencies - Are You With Me
14. John Newman - Losing Sleep (Disciples Remix)
15. Sons Of Maria - Need You
16. Tube & Berger & Juliet Sikora - Come On Now (Set It Off)
17. Whomadewho - Heads Above
18. Coustan - Hello
19. Bonaparte - Into The Wild (Teemid Remix)
20. Aboutblank & Klc Feat. Andru Donalds - Life (Mann & Meer Remix)
21. DJ Shog - I Lost Myself (Mann & Meer Remix)
CD2:
01. Oliver Heldens – Gecko
02. Parov Stelar - All Night
03. Martin Tungevaag - Wicked Wonderland
04. Avicii - Addicted To You
05. Nora En Pure Feat. Penny Foster - Higher In The Sun
06. Joris Voorn – Ringo
07. Lykke Li - No Rest For The Wicked (Klangkarussell Remix)
08. Edx - Breathin'
09. Chassio - Love You Louder
10. Moby feat. Damien Jurado - Almost Home (Sebastian Edit)
11. Vicarus feat. D.N.A. - Above The Sky
12. Croatia Squad - Be Good To Me
13. Nile Rodgers - Do What You Wanna Do (Ims Anthem) (Silversix Remix)
14. Above & Beyond feat. Alex Vargas - Sticky Fingers (Lane 8 Remix)
15. Flume feat. Jezzabell Doran – Sleepless
16. Juun feat. Sam Smith - When It's Alright
17. Kaner – Say
18. Steffen Linck - Sticks & Stones (Sascha Kloeber Bootmix)
19. Eisenhauer - One For Me (One Love Remix)
20. Amfree & Qvantvm - Fire (Deep Sounds Edit)
21. Schiller - Desert Empire