Ende August, genauer gesagt am 29.08., erscheint das elfte Studioalbum von DJ Antoine. Unter dem Name "DJ Antoine - We Are The Party" wird das Album via KONTOR Records veröffentlicht. 28 brandneue Tracks und ein Continuous DJ-Mix sowie einen Bonus-Mix umfasst das kommende Album "We Are The Party" von DJ Antoine . Ob es ähnlich erfolgreich werden wird, wie das "Sky is the Limit" Album, kann man nur vermuten. Die Chancen stehen aber sehr gut. Den offiziellen Minimix findet ihr unten.
DJ Antoine
Ende der 90er Jahre trat DJ Antoine erstmal öffentlich in Erscheinung. Als DJ in Basel (Schweiz) fing er an die Leute zu begeistern. 1998 wurde dann sein ersten Album released. Mittlerweile kann er auf mehrere Millionen verkaufter Tonträger zurückblicken. Goldene Schallplatten, Platin-Schallplatten und jede Menge weiterer Auszeichnungen gehen auf sein Konto. Dj Antoine ist der bekannteste und erfolgreichste DJ der Schweiz. Parallel zu seinem DJ-Dasein plegt er als Chef sein Label Houseworks.
Seine größten Erfolg feierte er mit dem Hit "Welcome To St. Tropez" die sich 56 Wochen in den deutschen Single-Charts hielt und dabei die Top-Platzierung 4 erreichte. Weitere Hits waren "Ma Chérie" oder "Sunlight". Letzteres hielt sich 28 Wochen in den Charts. In Deutschland erhielt er die 2012 die Goldene Schallplatte für sein Album "Welcome To DJ Antoine" und erreichte Platin-Status für seine Hit-Singles "Welcome To St. Topez" und "Ma Chérie".
Unter den 28 Titeln der Albums schlummern jede Menge potentieller Hits. Was anderes ist man auch nicht gewohnt aus dem Hause DJ Antoines. "Go With Your Heart", "Piece of Heaven" oder "Shake Ya Body" sind wunderbar kommerzielle Titel, die sicherlich in den DJ-Charts demnächst eine gewichtige Rolle spielen werden. Aber auch Tracks wie "DJ Pimp it Up" oder "Jaguar" machen Lust auf mehr. Als erste Singleauskopplung erartet und die "DJ Antoine vs. Mad Mark feat. X-Stylez & Two-M - We Are the Party". Insgesamt ist das Album relativ breit gefächert. Eine gute Mischung aus kommerziellen House, Progressive House / Trance und Festival-Sound ist hier zu finden. Man darf also gespannt sein.
Für die Featureings sorgen beim "DJ Antoine - We Are The Party" Album dieses Mal die FlameMakers, Timati, Flo Rida, Barnes & Heatcliff, Terri B, X-Stylez & Two-M, TomE, Mihai, Lanfranchi sowie Sängerin Vassy (die unter anderem die neue Scooter Single singen wird und den Megahit "BAD" von David Guetta und Showtek sang) und viele mehr. Mehr geht kaum. Und jetzt hier für euch die vollständige Tracklist des neuen und kommenden DJ Antoine Albums in der Übersicht. Wer reinhören möchte, klickt einfach auf den folgenden Link. Viel Spaß!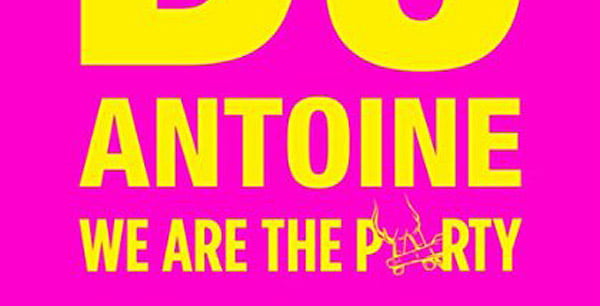 Zu den Hörproben des "DJ Antoine - We Are The Party" Albums
Tracklist: DJ Antoine - We Are The Party [Album]
CD1:
01. DJ Antoine vs Mad Mark feat. Temara Melek & Euro – Go With Your Heart (Album Version)
02. DJ Antoine vs Mad Mark – Vampires (Album Version)
03. DJ Antoine vs Mad Mark feat. Jason Walker – Wild Side (Album Version)
04. DJ Antoine vs Mad Mark feat. X-Stylez & Two-M – We Are The Party (Radio Edit)
05. DJ Antoine vs Mad Mark & Vassy feat. Euro – Tokyo (Album Version)
06. DJ Antoine – Light It Up (DJ Antoine vs Mad Mark 2k14 Radio Edit)
07. DJ Antoine feat. Mihai, TomE & Lanfranchi – It's Ok (DJ Antoine vs Mad Mark 2k14 Radio Edit)
08. DJ Antoine vs Mad Mark – Piece Of Heaven (Radio Edit)
09. DJ Antoine vs Mad Mark feat. Eric Zayne – Shake Ya Body (Album Version)
10. DJ Antoine, Mad Mark, FlameMakers – Rebound (Radio Edit)
11. DJ Antoine vs Mad Mark – Where Is Michael Caine (Radio Edit)
12. DJ Antoine vs Mad Mark – Breaking Light (Album Version)
13. DJ Antoine vs Mad Mark – Break The Silence (Album Version)
14. DJ Antoine & Morandi – Summer Days (FlameMakers Radio Edit)
15. DJ Antoine feat. Piero Esteriore – Buongiorno Amore (DJ Antoine vs Mad Mark 2k14 Radio Edit)
16. DJ Antoine, Mad Mark, FlameMakers feat. Gabri Levine – So High (Radio Edit)
17. DJ Antoine vs Mad Mark – Taboo (FlameMakers Deep Radio Edit)
18. DJ Antoine & Timati feat. Flo Rida – I Don't Mind (DJ Antoine vs Mad Mark 2k14 Re-Construction)
19. DJ Antoine, Mad Mark, FlameMakers – Girls Of Summer (FlameMakers UK Radio Edit)
CD2 – DJ-Friendly Full Versions
01. DJ Antoine, Mad Mark, Barnes & Heatcliff – Billy The Kid (Original Mix)
02. DJ Antoine, Mad Mark, FlameMakers feat. Terri B – Fucking Guestlist (Original Mix)
03. DJ Antoine vs Mad Mark – Jaguar (Original Mix)
04. DJ Antoine, Mad Mark, FlameMakers – Angel Voice (Original Mix)
05. DJ Antoine vs Mad Mark feat. X-Stylez & Two-M – DJ Pump It Up (Original Mix)
06. DJ Antoine, Mad Mark, FlameMakers – Trance Friday (Original Mix)
07. DJ Antoine, Mad Mark, FlameMakers – Horse Bite (Original Mix)
08. DJ Antoine – Light It Up (Bodybangers Remix)
09. DJ Antoine vs Mad Mark – Meet Me In Paris (2k14 Remix)
CD3 – DJ Antoine Special DJ Mix
01. DJ Antoine vs Mad Mark feat. X-Stylez & Two-M – We Are The Party (Original Mix)
02. DJ Antoine vs Mad Mark – Vampires (Original Mix)
03. DJ Antoine vs Mad Mark feat. Jason Walker – Wild Side (Original Mix)
04. DJ Antoine vs Mad Mark feat. Temara Melek & Euro – Go With Your Heart (Original Mix)
05. DJ Antoine vs Mad Mark – Break The Silence (Original Mix)
06. DJ Antoine vs Mad Mark & Vassy feat. Euro – Tokyo (Original Mix)
07. DJ Antoine vs Mad Mark feat. Eric Zayne – Shake Ya Body (Original Mix)
08. DJ Antoine, Mad Mark, Barnes & Heatcliff – Billy The Kid (Original Mix)
09. DJ Antoine, Mad Mark, FlameMakers – Angel Voice (Original Mix)
10. DJ Antoine feat. Mihai, TomE & Lanfranchi – It's Ok (DJ Antoine vs Mad Mark 2k14 Extended Mix)
11. DJ Antoine – Light It Up (DJ Antoine vs Mad Mark 2k14 Extended Mix)
12. DJ Antoine, Mad Mark, FlameMakers feat. Terri B – Fucking Guestlist (Original Mix)
13. DJ Antoine vs Mad Mark – Breaking Light (Original Mix)
14. DJ Antoine vs Mad Mark – Where Is Michael Caine (Original Mix)
15. DJ Antoine vs Mad Mark – Piece Of Heaven (Original Mix)
16. DJ Antoine feat. Piero Esteriore – Buongiorno Amore (DJ Antoine vs Mad Mark 2k14 Extended Mix)
17. DJ Antoine & Morandi – Summer Days (FlameMakers Remix)
18. DJ Antoine, Mad Mark, FlameMakers – Trance Friday (Original Mix)
19. DJ Antoine vs Mad Mark – Jaguar (Original Mix)