Am 26. September 2014 erschien die brandneue "Kontor Top of the Clubs Vol. 64". Das Compilation- Flaggschiff aus dem Hause KONTOR Records, bietet auf drei CDs wieder einmal allerhöchste Qualität in Sachen EDM Musik. Hochkarätige Produzenten, DJs und Acts haben hier ihre Tracks versammelt. Aber auch neues, unveröffentlichtes Material ist mit dabei. Welche Songs sich im Detail auf der Tracklist der "Kontor Top of the Clubs 64" befinden, erfahrt ihr bei uns. Auch den offiziellen Minimix haben wir für euch am Start.
Kontor Top of the Clubs Vol. 64: Die erste CD
Die erste CD der neuen "Kontor Top of The Clubs" Reihe bietet viel Spannendes. Los geht es mit der nagelneuen Single "Dance" von Alexandra Stan. Wie immer ist jede CD als DJ-Mix gehalten. "Pretty Pink feat. Ian Late - Hey Girl", oder die "Coldplay - A Sky Full of Stars" im Hardwell Remix hören wir sodann im weiteren Verlauf. Wem das noch nicht für eine Top-Compilation reicht, darf sich auf die neue Cascada Nummer "Madness" feat. Tris freuen. Sicherlicht ein Highlight und Kaufargument auf dieser CD. "Nora En Pure - True" oder "Martin Tungevaag - Wicked Wonderland" im coolen Olly Hence Remix sollte man ebenfalls nicht verpassen. Insgesamt eine sehr gute Songauswahl auf dieser CD, die von Jerome gemixed wurde.
Kontor Top of the Clubs Vol. 64: Die zweite CD
Internationaler Club-Sound erwartet uns auf der zweiten Silberscheibe der "Kontor Top of the Clubs 64", die von Markus Gardeweg gemixed wurde. Eine "Patrick Topping - Forget", oder "Sons Of Maria - I Got a Thrill" sowie "Gorgon City feat. Laura Welsh - Here for You" geben die musikalische Richtung vor. Mit Tracks wie beispielsweise "Galantis - You" im Tiësto vs. Twoloud Remnix oder der fetten "Porter Robinson Feat. Urban Cone - Lionhearted (Arty Remix)" werden auf der zweiten CD Zeichen gesetzt - weg vom Kommerz, hin zum internationalen Club-Feeling und Sound. Daumen hoch für diese Tracklist.
Kontor Top of the Clubs Vol. 64: Die dritte CD
Nicht minder clubbig geht es auf der dritten CD zu für die sich Nora En Pure zuständig zeigt. Auch hier sucht man kommerzielle Dance-Musik vergebens. KONTOR schafft es auch dieses Mal zu überraschen. Titel wie die Vocal-Version zur "Deorro feat. DyCy - Five Hours" sind nicht nur angesagt, nein, sie werten den KONTOR Sampler ungemein auf. Eine "twoloud - Track Three" gab es vor Kurzem noch als Free-Download. Auch auf der "Kontor Top of the Clubs Vol. 64" ist er vertreten. Im Weiteren sollte man sich Tracks von Künstlern wie Adrian Lux feat. Kaelyn Behr, Manufactured Superstars oder Passenger 10 & Lika Morgan zu Gemüte führen. Auch diese CD kann überzeugen.
Kontor Top of the Clubs Vol. 64: Kaufe oder nicht kaufen
Die "Kontor Top of the Clubs 64" unterscheidet sich deutlich von den letzten Ausgaben. Wenig kommerzielle Musik. Dafür internationaler Club-Sound. Dieses Rezept wird sich ab dem 26.09. beweisen müssen. Wer auf den Klang von Produzenten wie New World Sound, Cash Cash, Pretty Pink, Lykke Li, Sandro Silva, Vicetone oder Armin van Buuren steht, wird auch mit dieser KONTOR Compilation glücklich werden. Freunde des alten Mike Candys Sounds z.B. werden unter Umständen ihren Dance-Sound vermissen.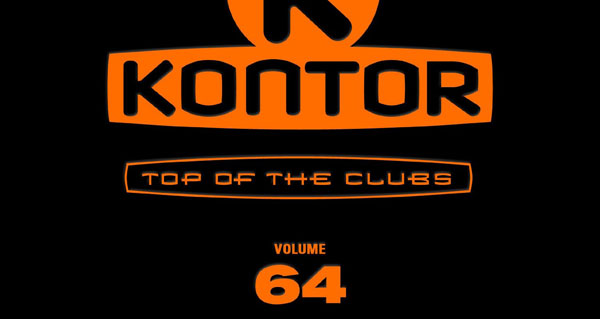 Name: Kontor Top of the Clubs Vol. 64
Erscheinungsdatum: 26.09.2014
Anzahl-CDs: 3 (60 Tracks)
Genre: House, Electro, Club-Style, Deep-House
Label: Kontor Records (Edel)
Preis: 19,99€ (Hier günstig kaufen)
Ähnliche Produkte: P1 Club - We Own the Night Vol. 5

Tracklist: Kontor Top of the Clubs Vol. 64
CD1: Mixed by Jerome
01. Alexandra Stan - Dance
02. DJ Antoine vs Mad Mark feat. Temara Melek & Euro - Go With Your Heart (Original Mix)
03. Coldplay - A Sky Full Of Stars (Hardwell Remix)
04. Galantis - You (Tiësto vs. Twoloud Mix)
05. Dimitri Vegas & Martin Garrix & Like Mike - Tremor
06. Armin van Buuren - Hystereo (Original Mix)
07. Martin Tungevaag - Wicked Wonderland (Olly Hence Remix)
08. Tony Junior & Baggi Begovic - Plur Warriors (Original Mix)
09. BOTH - Straight Outta Line (Extended Mix)
10. Porter Robinson feat. Urban Cone - Lionhearted (Arty Remix)
11. Cascada feat. Tris - Madness (Extended Mix)
12. Jay Frog & KLC - Tzzzz (Jerome Remix)
13. twoloud - Track Three (Original Mix)
14. Cash Cash - Satellites (Qulinez Remix)
15. Dimitri Vegas & Like Mike vs W&W - Waves (Tomorrowland 2014 Anthem) (Original Mix)
16. Bingo Players - Knock You Out (Hardwell Remix)
17. Nicky Jones & Squad - We Are Back In USA (Big Room Extended Mix)
18. Manufactured Superstars feat. Jarvis Church - Stay
19. Sandro Silva & Arston - Symphony (Original Mix)
20. Vicetone - Heat (Original Mix)
CD2: Mixed by Markus Gardeweg
01. Ferreck Dawn & Redondo - Love Too Deep (Original Mix)
02. BUNT. feat. Emma Carn - Journey (Extended Mix)
03. Avicii - Lay Me Down (Avicii By Avicii)
04. Secondcity - I Wanna Feel
05. Schuhmacher feat. Dr. May - Back Home (Original Mix)
06. Sigma - Nobody To Love
07. Pretty Pink feat. Ian Late - Hey Girl (Pretty Pink Mix)
08. Gorgon City feat. Laura Welsh - Here For You
09. Harry Romero - Tania (Purple Disco Machine Remix)
10. Cheap Picasso - Don't Play Around
11. Klangkarussell - Netzwerk (Falls Like Rain)
12. Lykke Li - No Rest For The Wicked (Joris Voorn Remix)
13. Patrick Topping - Forget
14. Andhim - Melte
15. Mat.Joe - Luvit
16. Clean Bandit - Nightingale (Gorgon City Remix)
17. New World Sound - How To Twerk (Original Mix)
18. Mark Knight - In & Out (Original Club Mix)
19. Mausi - My Friend Has A Swimming Pool (The Magician Remix)
20. Deorro feat. DyCy - Five Hours (Don't Hold Me Back) (Original Vocal Mix)
CD3: Mixed by Nora En Pure
01. Santa Maradona F.C. - Give Me Sunshine
02. EDX - Make Me Feel Good (Original Mix)
03. Nora En Pure - True (Original Mix)
04. Lilly Wood & The Prick and Robin Schulz - Prayer In C (Robin Schulz Mix)
05. Spada feat. Hosie Neal - Feels Like Home (Red Velvet Dress) (Original Mix)
06. Sir Felix - Hope (Nora En Pure Remix)
07. C-Ro feat. Florence Bird - My Love (Club Mix)
08. Croatia Squad - All Alone (Original Mix)
09. Sons Of Maria - I Got a Thrill (Original Mix)
10. Low Steppa feat. Natalie Wood - Drifting (Extended Mix)
11. Rough Traders feat. Tristan Henry - Need U More (Original Mix)
12. Adrian Lux feat. Kaelyn Behr - Sooner Or Later (Nora En Pure Mix)
13. Calippo - Taking Over (Original Mix)
14. Mr Belt & Wezol - Shiver (Original Mix)
15. Passenger 10 & Lika Morgan - Golden Sky (Sons Of Maria Remix)
16. Ganzfeld Effect - Going Deeper (Original Mix)
17. Soda Circle - Summer Feeling (Extended Mix)
18. Lost Frequencies - Are You With Me (Extended Mix)
19. Moon Boots & Kyiki - Don't Ask Why (LCAW Remix)
20. Guillaume Delarge & Mat Coast - Marimba