Wie jedes Jahr zu Beginn der Bundesliga Saison veröffentlicht EA die neueste Version seines Videospiel Klassikers Fifa mit aktuellen Kadern fast aller Profimannschaften Weltweit. Wie auch in den vergangenen Jahren kommt auch bei "Fifa 15" ein erstklassiger Soundtrack von bekannteren und unbekannteren Bands und Solokünstlern weltweit. Mit dabei in diesem Jahr: ein nagelneuer Avicii Song! "Avicii - The Nights", ist exklusiv in FIFA 15 zu hören.
Doch damit noch nicht genug, auch der Kanadier A-Trak steuert eine neue Produktion hinzu, der DJ und Labelboss von Fool's Gold Records ist einer der erfolgreichsten Turntablists des nordamerikanischen Landes. Von dem französischen Wunderkind Madeon wird es ebenfalls eine bisher unveröffentlichte Kreation zu hören geben. Und der A-List DJ und Progressive House Hero Dirty South steuert seine nächste Single "Tunnel Vision" bei. Drum & Bass Superstars Rudimental steuern ihre aktuelle Single mit Dubstep Vertreter Alex Clare, "Give You Up" bei. Vom schwedischen Youngster Elliphant kommt der auf Mad Decent erschienene und mit Diplo produzierte Hit "All Or Nothing" sowie eine neue Komposition namens "Purple Light". Auch zwei deutsche Künstler sind vertreten, der Hamburger DJ Tensnake liefert seine aktuelle Ibiza House Scheibe "Pressure" und die Band Milky Chance ihren Hit "Down by the River".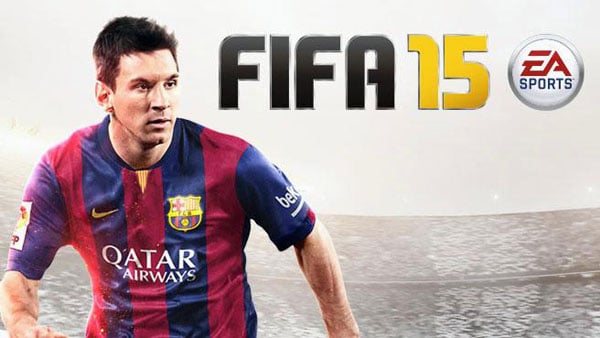 Soundtrack: Fifa 15
Avicii - The Nights
A-Trak - new song
Bang La Decks - "Utopia"
Broods - "L. A. F."
Catfish and the Bottlemen - "Cocoon"
ChocQuibTown - "Uh La La"
Death From Above 1979 - "Crystal Ball"
Dirty South - "Tunnel Vision"
Elliphant - "All or Nothing"
Elliphant - "Purple Light"
Emicida feat. Rael - "Levanta e Anda"
FMLYBND - "Come Alive"
Foster the People - "Are You What You Want To Be?"
Jacob Banks - "Move With You"
Joywave - "Tongues"
Jungle - "Busy Earnin'"
Kasabian - "Stevie"
Kinski Gallo - "Cumbia del Corazón"
Kwabs - "Walk"
Lowell - "Palm Trees"
Madden Brothers - "We Are Done"
Madeon - new song
Magic Man - "Tonight"
Milky Chance - "Down by the River"
MPB4 - "Agiboré (Marky's Ye-Mele Refix)"
Nico & Vinz - "When The Day Comes"
Polock - "Everlasting"
Prides - "Out Of The Blue"
Rudimental feat. Alex Clare - "Give You Up"
Saint Motel - "My Type"
Saint Raymond - "Wild Heart"
Sante Les Amis - "Brasil"
Slaptop - "Sunrise"
Teddybears - "Sunshine"
Tensnake - "Pressure"
The Griswolds - "16 Years"
The Kooks - "Around Town"
The Mountains - "The Valleys"
The Ting Tings - "Super Critical"
Tune-Yards - "Water Fountain"
Vance Joy - "Mess Is Mine"