BigCityBeats Vol. 21 [Tracklist + Minimix]
Die "Big City Beats Vol. 21" erschien am 17. Oktober 2014. Wie schon seine Vorgänger ist auch diese kommende Ausgabe der beliebten Sampler-Reihe ein heißer Kandidat für die Deutschen Compilation Charts und dessen oberen Chart-Regionen. Auf drei CDs haben sich 60 EDM Titel eingefunden und bilden eine extrem ausgewogene und tolle Tracklist. Weitere Gründe, die für einen Kauf der "Big City Beats 21" sprechen, erfahrt ihr im folgenden Artikel.
Die erste CD - Big City Beats ARENA
Unter den 20 Titeln der ersten CD der "Big City Beats Vol. 21" befinden sich viele große Namen aus den Charts und viele hochkarätige EDM-Tracks im Allgemeinen. "A Sky Full Of Stars" - im Hardwell Remix - von Coldplay ist hier genau so anzutreffen, wie eine "Lilly Wood & The Prick and Robin Schulz - Prayer In C" im interessanten Stefan Dabruck Remix oder die Tomorrowland 2014 Anthem "Waves" von Dimitri Vegas & Like Mike vs W&W. Stilistisch geht es auf dieser CD in Richtung Bidroom EDM und Progressive House. Die Trackauswahl ist gut bis sehr gut. Einzig ein paar wenige Titel haben bereits ihren Zenit überschritten und sind schon den einen oder anderen Monat zu alt. Trotzdem erwartet euch hier hochwertigste Club-Musik.
Die zweite CD - Big City Beats RADIO
Kongenial zur ersten CD ist das Tracklisting der zweiten gelungen. Unter der Deklaration "Big City Beats RADIO" finden sich hier Titel wie beispielsweise "Hardwell & Joey Dale feat. Luciana - Arcadia", "Oliver Heldens - Buzzer" oder "Hystereo" von Armin van Buuren. Auch Produktionen aus Deutschland haben sich auf dieser Silberscheibe eingefunden. "PH Electro - Back Home" oder "Jay Frog & KLC - Tzzzz" ím coolen Jerome Remix) sowie "Twoloud - I'm Alive" sind drei Beispiele hierfür. Insgesamt ist die Songauswahl auf der zweiten CD der "Big City Beats Vol. 21" hervorragend.
Die zweite CD - Big City Beats CLUB
Club Sound gibt es auf der dritten CD zu entdecken. Einer der großen Hits des Jahres 2014 ist die "Route 94 feat. Jess Glynne - My Love". Sie macht den Opener der dritten CD. Deep und clubbig geht es weiter mit Tracks wie "Route 94 feat. Jess Glynne - My Love", "Secondcity - I Wanna Feel" oder "Kid Massive & Backwood feat. Elliotte Williams N'Dure - Pride (A Deeper Love)" im Hoxton Whores Remix. Wer auf diese und ähnliche Songs bzw. Sounds steht, wird seine wahre Freude an der dritten CD der "Big City Beats Vol. 21" haben.
Big City Beats Vol. 21 - Kaufen oder nicht kaufen?
Die "Big City Beats" steht - ebenso wie das Radio an sich - für hohe Qualität. Die Trackauswahl ist gut bis sehr gut gelungen und es finden sich viele aktuellen Hits aus den Clubs und Discotheken auf den drei CDs der Compilation. Hin und wieder hat sich zwar ein leicht veralteter Titel eingeschlichen; das stört aber nicht weiter. Für diesen Sampler gibt es einen klaren Daumen nach oben. Wer noch überzeugt werden muss, checkt am besten den offiziellen Minimix, den wir unten für euch eingebunden haben. Ansonsten gilt: KAUFEN!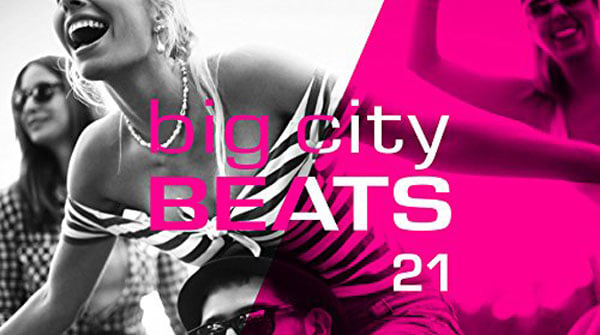 Name: Big City Beats Vol. 21
Erscheinungsdatum: 17.10.2014
Anzahl-CDs: 3 (60 Tracks)
Genre: House, Electro, Deep-House
Label: Big City Beats (Edel)
Preis: 21,99€ (Hier günstig kaufen)
Ähnliche Sampler: Kontor Top of the Clubs Vol.64 | DBN - Night Safari
Tracklist: Big City Beats Vol. 21
CD1 - BIGCITYBEATS ARENA
01. Intro - Take Off Vol. 21
02. Mynoorey - Million Lights
03. Martin Garrix, Sander van Doorn, DVBBS feat. Aleesia - Gold Skies
04. Dimitri Vangelis & Wyman X Steve Angello - Payback
05. Coldplay - A Sky Full Of Stars (Hardwell Remix)
06. Eddie Thoneick & Abel Ramos feat. James Walsh - Love Will Never Let You Down
07. Hook N Sling feat. Karin Park - Tokyo By Night (Axwell Remix)
08. Tom Staar & Ansolo - Totem
09. Lilly Wood & The Prick and Robin Schulz - Prayer In C (Stefan Dabruck Remix)
10. Martin Volt & Quentin State - Rush
11. DubVision - Backlash (Martin Garrix Edit)
12. S - A vs. AN21 & Sebjak - Gods
13. R3HAB & NERVO feat. Ayah Marar - Ready For The Weekend
14. Firebeatz & KSHMR feat. Luciana - No Heroes
15. Lush & Simon - Hunter
16. Jay Hardway - Bootcamp
17. John Christian - Next Level (Nicky Romero Edit)
18. Fedde le Grand - Twisted
19. Dimitri Vegas & Like Mike vs W&W - Waves (Tomorrowland 2014 Anthem)
20. Arno Cost & Norman Doray - Apocalypse 2014 (Kryder & Tom Staar Remix)
CD2 - BIGCITYBEATS RADIO
01. Armin van Buuren - Hystereo
02. Hardwell & Joey Dale feat. Luciana - Arcadia
03. Kaskade vs Patric La Funk & DBN - Please Say Quick Quack
04. ATB with Boss and Swan - Raging Bull (Richie Romano Remix)
05. Sander van Doorn & Firebeatz - Guitar Track
06. Oliver Heldens - Buzzer
07. NERVO feat. Duane Harden - Sunshine Thru Rain Clouds
08. Cosmic Gate & Eric Lumiere - Falling Back
09. Sandro Silva & Arston - Symphony
10. Twoloud - I'm Alive
11. Vicetone - Heat
12. Wolfpack & Bobby Puma - Jump
13. Yves V feat. Chuckie - Oldschool Sound
14. Robbie Rivera feat. Caroline D' Amore - That Summer (Nacho Chapado & Ivan Gomez Dub Mix)
15. Jordy Dazz & Fafaq - Jumbo
16. Dannic - Zenith
17. PH Electro - Back Home (Summer Festival Mix)
18. Don Diablo - Knight Time
19. Jay Frog & KLC - Tzzzz (Jerome Remix)
20. Rene Amesz - Let Me
CD3 - BIGCITYBEATS CLUB
01. Route 94 feat. Jess Glynne - My Love
02. Daniel Steinberg - Let Me Down (Tube & Berger Remix)
03. Martin Waslewski & Ole Biege - Odsbodkins (Hanne & Lore Remix)
04. Nicky Night Time - Everybody Together
05. Andhim - Melte
06. Spada feat. Hosie Neal - Feels Like Home (Red Velvet Dress) (Lizot Remix)
07. Go Freek - We Can Ride (Dom Dolla Remix)
08. Nora En Pure - True
09. Ferreck Dawn & Redondo - Love Too Deep
10. Gerd feat. Marcoradi - Still Believe
11. Patrick Topping - Forget
12. Secondcity - I Wanna Feel
13. Isis Salam, Kruse & Nuernberg - Nasty Girl
14. Alex Kenji - Stay With Me
15. Mark Knight - In & Out
16. Kid Massive & Backwood feat. Elliotte Williams N'Dure - Pride (A Deeper Love) (Hoxton Whores Remix)
17. My Digital Enemy - Don't Give Up
18. Super Flu with Monkey Safari - Me Roar (Format:B Remix)
19. Joachim Pastor feat. Florence Bird - Wayfaring Stranger (AKA AKA & Thalstroem Remix)
20. Juli-lee feat. Ivy Velvet - Fallin'