Pure Deep House 3 [Tracklist + Minimix]
Deep House ist mehr als "in". Wer diesem Sub-Genre des EDM verfallen ist, sollte die "Pure Deep House 3" unbedingt auf dem Schirm haben. Die Compilation aus dem Hause New State kommt mit drei CDs und insgesamt 60 Tracks am 23. Januar 2015 in den Handel. Die meisten Tracks dieses Samplers sind recht unbekannt. Dementsprechend hoch ist die Spannung und der Entdeckungsfaktor. Ob sich daher eine Kauf der "Pure Deep House 3" lohnt, erfahrt ihr bei uns. Als kleine Entscheidungshilfe haben wir den offiziellen Album Minimix unterhalb dieses Artikel für euch eingebunden. Am besten reinhören, während ihr diesen Artikel lest.
Pure Deep House 3: Die erste CD
Auf der ersten CD der "Pure Deep House 3" finden wir einige bekannte Namen - auch wenn sie in der Minderheit sind. Aber gleich der Opener-Act sollte vielen bekannt vorkommen. Clean Bandit & Jess Glynne, die auch in unserem großen Jahresrückblick 2014 eine Rolle spielen, feuern ihre Nummer "Real Love" ab. Das Ganze gibt es im Tough Love Remix. "Oliver Heldens & Becky Hill - Gecko", "Kiesza - Hideaway" oder auch "Disclosure ft. Jessie Ware - Confess To Me" imHannah Wants & Chris Lorenzo Remix sind nicht nur moderne Klassiker, sonder auch extrem tolle Songs. Sie alle befinden sich auf der ersten CD.
Pure Deep House 3: Die zweite CD
"Lilly Wood & Robin Schulz - Prayer In C (Robin Schulz Remix)" - viel besser kann eine Deep-House CD zur Zeit nicht anfangen. Es folge große Chart-Hits wie "Duke Dumont ft. Jax Jones - I Got U", "Lana Del Rey - Summertime Sadness" im MK Feel It In The Air Remix oder auch "Route 94 - Misunderstood". Deep-House Herz was willst du mehr? Insgesamt geht es auf dieser zweiten Silberscheibe etwas cluggier und undergroundiger zu. Die oben erwähnten unbekannteren Produktionen sind in der Mehrheit. Sie sind durch die Bank weg hervorragend. Diese zweite CD ist ein echtes Highlight am Deep-House Himmel!
Pure Deep House 3: Die dritte CD
Auf der dritten und abschließend CD geht es dann in Richtung "echten Deep-House". "Kim English - Nite Life (Bump Classic Mix)" ist der Opener. "Solution - Feels So Right (Original Victor Simonelli Mix)", "Andrea Mendez - Bring Me Love", "Nuyorican Soul - It's Alright, I Feel It" im Mood II Swing Remix oder auch "Ralphi Rosario - An Instrumental Need" sind unter anderem auf dieser CD zu finden. Im Weiteren befinden sich Tracks von Musikern wie Urban Soul, Cloud 9, Degrees of Motion, Solution oder Ladycop sowie Cajmere ft. Dajae auf dieser dritte CD der empfehlenswerten "Pure Deep House 3".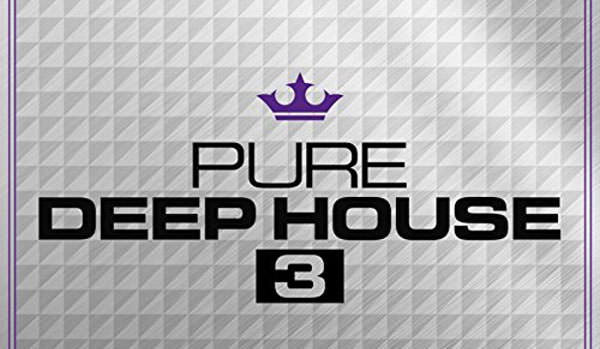 Name: Pure Deep House 3
Erscheinungsdatum: 23.01.2015
Anzahl-CDs: 3 (60 Tracks)
Genre: Deep-House
Label: New State (rough trade)
Preis: 19,99€ (Hier günstig kaufen )
Ähnliche Sampler: Pacha 2015
Tracklist: Pure Deep House 3
CD1:
01. Clean Bandit & Jess Glynne - Real Love (Tough Love Remix)
02. Blonde ft. Melissa Steel - I Loved You
03. Ferreck Dawn & Redondo - Love Too Deep
04. Kiesza - Hideaway (Zac Samuel Remix)
05. Oliver Heldens & Becky Hill - Gecko (Overdrive)
06. Madison Avenue - Don't Call Me Baby (Motez Remix)
07. La La Land - Lonely (Nathan Dalton Remix)
08. NVOY ft. Youngman - Sky High
09. Dino Lenny vs. Hardrive - A DJ Deep Inside (Shadow Child Remix)
10. Just Kiddin - Thinking About It (Youan Remix)
11. Disclosure ft. Jessie Ware - Confess To Me (Hannah Wants & Chris Lorenzo Remix)
12. Bill & Will - Control The Night
13. Woz - Breathe
14. Wilfred Giroux - Stronger
15. Marvel Riot - Each Time I See You
16. PowerDress - Torture (Linier Remix)
17. Classixx ft. Karl Dixon - Into the Valley (Julio Bashmore Remix)
18. The Magician ft. Years & Years - Sunlight (Watermät Remix)
19. TIEKS ft. Celeste - Sing That Song
20. Breach ft. Kelis - The Key
CD2:
01. Lilly Wood & Robin Schulz - Prayer In C (Robin Schulz Remix)
02. Duke Dumont ft. Jax Jones - I Got U
03. Daniel Steinberg - Let Me Down (Tube & Berger Remix)
04. Hot Natured - Benediction (GRADES Remix)
05. Mickey - Sweet Baby
06. Lana Del Rey - Summertime Sadness (MK Feel It In The Air Remix)
07. Claude von Stroke - Eye I Eye
08. Amine Edge & Dance - Halfway Crooks
09. Drumsound & Bassline Smith ft. Youngman - Come Alive (Hugo Massien Remix)
10. Allusion & D.Ramirez - So Special
11. Louie Anderson ft. Emmy J Mac - One For Me
12. Disciples - Remedy (Reset Safari Remix)
13. Eli & Fur with Shadow Child - Seeing is Believing
14. Spoils & Monkey Wrench - Enemies In The Dance
15. Apexape & Chris Lorenzo - Got To Give (Heavier Mix)
16. Friend Within - The Label
17. Patrick Topping - Forget
18. Route 94 - Misunderstood
19. Dusky - Inta
20. Tom Trago - Use Me Again (And Again)
CD3:
01. Kim English - Nite Life (Bump Classic Mix)
02. Solution - Feels So Right (Original Victor Simonelli Mix)
03. Danny J Lewis - Spend The Night (H Man Dub)
04. 24 Hour Experience - Together
05. MK ft. Alana - Love Changes (MK Mix)
06. Andrea Mendez - Bring Me Love (Original Dub Mix)
07. Ladycop - To Be Real
08. Kalani Bob & Remegel - Deep Breath
09. Mood II Swing - Do It Your Way
10. Nuyorican Soul - It's Alright, I Feel It (Mood II Swing Remix)
11. Kerri Chandler - Atmospheric Beats
12. Urban Soul ft. Roland Clark - Alright (Original 1991 Mix)
13. Ralphi Rosario - An Instrumental Need
14. Cajmere ft. Dajae - Brighter Days (Louie's Masters At Work Mix)
15. Barbara Tucker - Stay Together (G-Funk Mix)
16. Cloud 9 - Do You Want Me Baby
17. Sha-lor - I'm In Love (Caught Up Version)
18. The Brand New Heavies - Close To You (Masters at Work Remix)
19. Degrees of Motion - Do You Want It Right Now (Richie's 94 Mix)
20. Desiya ft. Melissa Yiannokou - Comin' On Strong (Spagatini Mix)