House: Vocal Session [Tracklist]
Wer auf der Suche nach einer Compilation ist, die sich thematisch vornehmlich mit kommerziellen Dance-House befasst, sollte einen Blick auf die "House: Vocal Session" werfen. Der Sampler aus dem Hause ZYX Music bietet auf zwei CDs genau das: House Tracks mit frischen Vocals. Dabei treffen moderne Klassiker, Tracks der letzten Monate und aktuelle Titel aufeinander. Welche Songs sich im Detail auf der "House: Vocal Session" eingefunden haben, erfahrt ihr im folgenden Artikel.
House: Vocal Session: Die erste CD
Die erste CD der "House: Vocal Session" enthält auf seiner Tracklist viele musikalische Perlen. Sowohl bekannte Künstler und Acts haben sich hier eingefunden, als auch unbekanntere Produktionen aus der zweiten Reihe entdecken wir auf dieser Silberscheibe. "Yves Larock - Rise Up (Fly Over The Rainbow)", "Dj Antoine - Underneath" im Daddy S Groove Rework oder auch "D.O.N.S. Feat. Terri B. You Used To Hold Me (Tv Rock Remix)" sind hervorragende Tracks, die diese erste CD der "House: Vocal Session" zieren. Aber auch Tracks wie "atthias Menck Feat. Thailand - Dead Radio", "Niels Van Gogh & Spacekid - Integrity & Honesty" oder "Roger Sanchez Feat. Terri B. Bang That Box" sind echte Highlights, die man nicht verpassen sollte.
House: Vocal Session: Die zweite CD
CD Nummer zwei macht da weiter wo die erste CD aufgehört hat und verfolgt das selbe Konzept. Eine gesunde Mischung als bekannt und unbekannter sowie älter und aktuell. "Klaas - Make You Feel", "The Real Booty Babes - I Kissed A Girl" im PH Elektro Remix oder auch "Axwell & Bob Sinclar Feat. Ron - What A Wonderful World" zählen zu der Sorte der modernen Klassiker. Fette Vocals und gute Instrumentals bilden hier die Grundlage für den Hit-Faktor. Im Weiteren befinden sich Produktionen von Künstlern, DJs und Acts wie beispielsweise D.O.N.S., Bootmasters & Eric SSL, Thomas Gold, Plastik Funk, Ritmo Playaz oder auch G&G auf der Tracklist. Insgesamt eine gute Songauswahl, die überzeugt.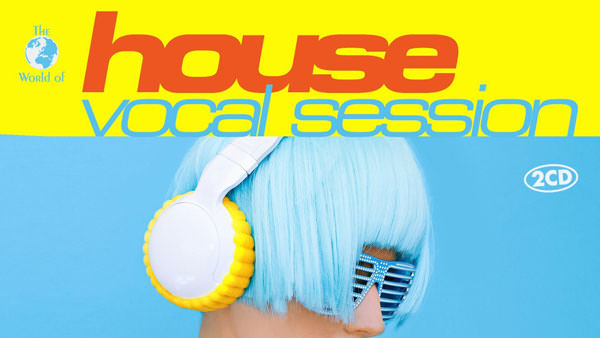 Name: House: Vocal Session
Erscheinungsdatum: 06.02.2015
Anzahl-CDs: 2 (39 Tracks)
Genre: House, Electro, Prgressive House, Dance
Label: Zyx / World of (ZYX)
Preis: 11,98€ (Hier günstig kaufen )
Ähnliche Sampler: Running Trax 2015
Tracklist: House: Vocal Session
CD1:
01. Yves Larock - Rise Up (Fly Over The Rainbow) (Original Radio)
02. Eddie Thoneick - Whatcha Want (DJ Antoine Vs. Yoko Short Edit)
03. DJ Antoine - Underneath (Daddy S Groove Radio Rework)
04. Lenny Fontana & Ridney Present - Wait 4 U (Full Radio Edit)
05. D.O.N.S. Feat. Terri B. You Used To Hold Me (Tv Rock Remix Edit)
06. Diaz & Young Rebels Gold - Open Sesame (Radio Edit)
07. Horny United - Time (Bongoloverz Radio Mix)
08. The Frenchmakers Feat. Andrea - Miracle (Dub Radio Edit)
09. Mischa Daniels Feat. Tash - Round & Round (Official Radio Edit)
10. Silvano Da Silva Feat. Mazaya - Da Beat Goes (Sunloverz Remix Cut)
11. Robert Livesu & DJ Eako Feat. Hold Your Head Up High (D.O.N.S. Vs. Menck Remix Edit)
12. Dubnotized - Boom Bang Bang (Horny United Rework Edit)
13. Guernica Feat. Mazaya - Ride On (Plastik Funk Mix Cut)
14. Synchro & Jva - Dancin (Original Radio Edit)
15. Matthias Menck Feat. Thailand - Dead Radio (Menck S Get Naked Mix)
16. Chris Crime Feat. Antonella Ro - Ready Or Not (Crime N Candys Radio Edit)
17. Niels Van Gogh & Spacekid - Integrity & Honesty (Straight Bass Mix)
18. Voodoo & Serano - Sunglasses At Night (Radio Edit)
19. DJ Disciple Feat. Dawn Tallman - Work It Out (Klaas Remix)
20. Roger Sanchez Feat. Terri B. Bang That Box (S-Man Radio Edit)
CD2:
01. Klaas - Make You Feel (Klaas Stomp Vocal Edit)
02. S & H Project - Bob The Radio (Spencer & Hill Club Radio Edit)
03. Ajay Feat. Anita Davis - Finally (Bigroom Edit)
04. The Real Booty Babes - I Kissed A Girl (Ph Elektro Remix Edit)
05. Chris Montana - Speed Of Life (DJ Sign Mix)
06. Ritmo Playaz Feat. Paula P Cay - Take A Ride (Short Edit)
07. Stalker - Partywahn (Album Edit)
08. The Teachers - Is It Love (2-4 Grooves Remix Edit)
09. Ricardo Reyna - Hasta Que Salga La Luna (Prok & Fitch Vocal Mix)
10. Bootmasters & Eric Ssl Feat. C - You Got The Love (Eric Ssl Con Bootmasters Edit)
11. D.O.N.S. Presents John Morley - Oh La La La (Short Edit)
12. Marco Demark Feat. Peter Millw - I Can T Fight This (Original Radio Mix)
13. Thomas Gold Feat. Amanda Wilso - Something S Gotta Give (Näsh La Salle Remix)
14. The Viron Ltd. Feat. Max C - Wanna Be Happy (Stereo Palma Edit)
15. City Sneakerz Feat. Michael Ma - Want 2 Be (Short Edit)
16. Celvin Rotane - I Believe 2008 (Dabruck & Klein Remix Cut)
17. Axwell & Bob Sinclar Feat. Ron - What A Wonderful World (Radio Edit)
18. Plastik Funk Feat. Alexandra P - Show Me What You Got (Original Mix)
19. G&G - Personal Jesus (PH Elektro Mix Edit)