Km5 Ibiza Vol.15 » [Tracklist]
Einen ganz besonderen Sound gibt es auf der Km5 Ibiza Vol.15, die am 03. Juli 2015 über KONTOR Records veröffentlicht wird. Independent Funk, Soul und Deep House - so könnte man die Genres grob eingrenzen in dem sich dieser Sampler stilistisch bewegt. Großartigste Produktionen und Produzenten haben sich hier eingefunden und präsentieren uns ihre Sound. Das Ergebnis sind tolle Kompositionen mit teilweise herausragenden Vocal-Arrangements. Welche Songs sich im Detail auf der "Km5 Ibiza Vol.15" befinden, wollen wir im Folgenden beleuchten. Zunächst einmal beginnen wir mit der Tracklist, die unter der Leitung von Sergi Ribas - der auch den DJ-Mix produziert hat - und Josch Genske entstanden ist.
CD1:
01. Howling - Howling
02. Death On The Balcony - Addict For Your Love
03. Tito Wun - The Way U Do It
04. Capricorn Confusion - Oh Suga
05. Djon Maya Mai feat. Victor Deme - Synapson (Oliver Koletzki Radio Rework)
06. KlangKuenstler feat. Alice Phoebe Lou - Man On the Moon (Miguel Campbell Remix)
07. Janina - Isabel (Thomas Atzmann Remix)
08. Kraak & Smaak feat. John Turrell - Back Again (Hot Toddy Dub)
09. Silversix + Bodyworks - Gimme Your Love
10. Jay West & Manuel Sahagun feat. Cody ChesnuTT - Sense Of You
11. Joss Moog - Secret Garden
12. Kölsch feat. Gregor Schwellenbach - Cassiopeia
CD2:
01. Monkey Safari - Cranes
02. Niconé & Gunjah feat. La Boheme - About You
03. David Keno & Nico Stojan - How Does It Feel (Beatamines Remix)
04. Bambook Mennie feat. Cari Golden - Slip Away
05. C'est Moi - This Song
06. Federico Scavo feat. Simone - Pra Nao Dizer Que Nao Falei Das Flores (General Tosh God's Heaven Remix)
07. Chaim - Blue Shadow
08. Caribou - Can't Do Without You (Tale Of Us & Mano Le Tough Remix)
09. Gorge - Won't Hurt
10. Paride Saraceni - Dissolute
11. Tuccillo - Notorium (Gorge Remix)
12. Maxxi Soundsystem - Medicine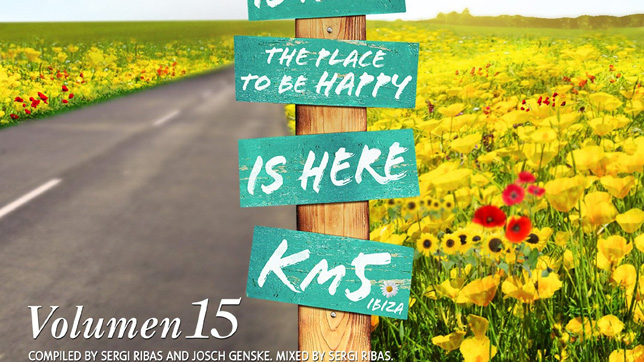 Km5 Ibiza Vol.15: Die Tracklist der ersten CD
Wenn man sich die CD anhört, kann es einem passieren, dass man die Zeit und den Raum um sich herum vergisst. Schon der Opening-Track "Howling" oder auch die "Addict For Your Love", bzw. die "Tito Wun - The Way U Do It" vermögen es zu wissen, den Zuhörer schon nach kürzester Zeit in ihren Bann zu ziehen. Mit ihren natürlichen Drum-Samples heben sie sich deutlich vom Mainstream ab. Musikalisch wird dabei immer ein Pfad beschritten, die irgendwo zwischen House, Deep-House, Independent und Funk angesiegelt ist. Das ist auch gleichsam das Alleinstellungsmerkmal der "Km5 Ibiza Vol.15", die dadurch zu einer echten Perle am Sampler-Markt wird. Ganz großes Kino!
Km5 Ibiza Vol.15: Die Tracklist der zweiten CD
Auf der zweiten CD der "Km5 Ibiza Vol.15" geht es deutlich housiger und tanzbarer zur Sache. Man könnte auch sagen, dass hier der Faktor "Kommerz" ein Tick stärker vertreten ist. Dies gilt aber nur im weitesten Sinne. Denn bis auf wenige Ausnahmen wie zum Beispiel die "Federico Scavo feat. Simone - Pra Nao Dizer Que Nao Falei Das Flores", die im General Tosh God's Heaven Remix vertreten ist, oder die "Monkey Safari - Cranes" sind die meisten der 12 Titel doch eher im Underground angesiedelt und weniger bekannt. Dies ist aber kein Grund sicjh gegen die Km5 Ibiza Vol.15 zu stellen. Ganz im Gegenteil. Die Songs dieser Silberscheibe sind qualitativ zwischen hervorragend und Weltklasse einzuordnen.
Kaufen oder nicht kaufen?
Wer ist extrem gute, hochwertige und herausragende Underground-Produktionen stehen, die auch den Mut haben diverse Genres zu kombinieren, ist hier an der richtige Adresse. Auf der "Km5 Ibiza Vol.15" findet man den coolsten, aber auch den unkommerziellsten Sound der iberischen Halbinsel. Namen wie Oliver Koletzki zählen mit Abstand zu den Bekanntesten. Dennoch: Für 16,99€ bekommt man hier ein extrem lohnenswertes Produkt. Wer nicht ganz so viel investieren möchte, greift auf die Download-Version zurück, die etwas günstiger zu haben ist.