Am 24. Juli erscheint in Deutschland auf einer CD der original Soundtrack der Minions. Wer kennt sie nicht? Die kleinen, süßen gelben Lebenwesen mit Blue Jeans und Brillenaufsatz, die ihren Ursprung im 2010er Film "Ich – Einfach unverbesserlich" hatten. Aber nicht nur die Animation und der Humor der Minions begeistert, auch der Soundtrack des aktuellen Minions-Films (Kinostart 02. Juli 2015) überzeugt und ist hervorragend von Heitor Pereira komponiert worden. Aber auch weitere Bands und bekannte Künstler sind mit ihren Werken hier vertreten. Welche das sind, verrät die nachfolgende Tracklist.
Tracklist: Minions (Original Motion Picture Soundtrack)
01. Universal Fanfare (The Minions)
02. Happy Together (The Turtles)
03. I'm a Man (The Spencer Davis Group)
04. You Really Got Me (The Kinks)
05. My Generation (The Who)
06. Mellow Yellow (Donovan)
07. Revolution (The Minions)
08. Minions Through Time
09. Kevin, Stuart and Bob
10. Minions Run Amok
11. Tortellini
12. The VNC
13. Minions in the U.S.A.
14. Orlando
15. Scarlet Overkill
16. Ruby Fight
17. Make 'Em Laugh (The Minions)
18. Scarlet's Fortress
19. Traveling Tribe
20. Tower of London (London)
21. Hair (The Minions)
22. Fighting the Crown Keeper
23. King Bob
24. Theme from the Monkees (The Minions)
25. Dungeon Mayhem
26. Goodbye Fabrice
27. Minion Mission
28. Sneaking In
29. King Kong Kevin
30. Our Hero Is Back
31. Minions Victory
32. Greatest Renegade Unveiling (Gru)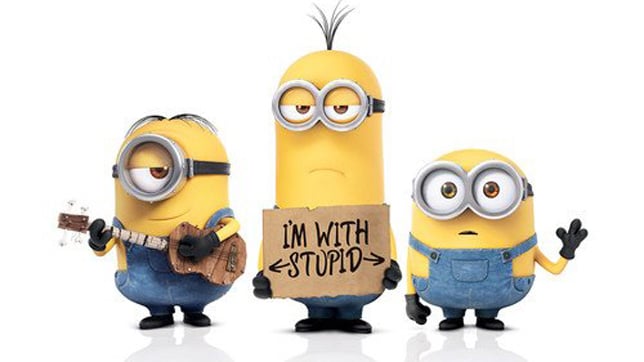 Soundtrack der Minons
32 Titel mit einer Gesamtlaufzeit von 67:11 Min. umfasst der Soundtrack zum Minions-Film. Wie das klingt, könnt ihr übrigens unten im YouTube-Video checken. Wir haben den vollständigen Soundtrack unten als YouTube-Video für euch rausgesucht und eingebunden.
Neben den Kompositionen von Heitor Pereira befinden sich Titel von Bands und Gruppen wie The Who, Donovan oder The Spencer Davis Group auf der Tracklist. Die Musik transportiert nicht nur die Stimmung und die Atmosphäre des Films in einer Perfektion, nein, auch der Humor und der subtile Witz der Minions werden musikalisch wiedergespiegelt. Das macht den Soundtrack zu einem echten Highlight.
Fans und Freunde des Minions - und davon soll es Gerüchten zufolge nicht wenige geben - können sich diesen Soundtrack bedenkenlos gönnen. Die 32 Songs sind eine gute Investition. Ihr werdet eine tolle musikalische Reise erleben. Und zwar auf höchstem Niveau. Ganz so, wie man es von den Filmen, in denen die Minions mitspielten, gewohnt ist. Auch Eltern dürften sich nicht scheuen ihren Kindern den Soundtrack via Single-CD Album zu schenken. Es lohnt sich!