Neu in der DJ-Promo: Angelo DeCaro feat. Riccy - I Love the Way You Move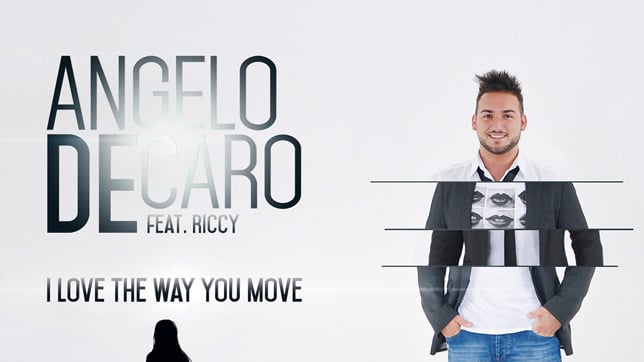 Der Gladbecker Newcomer "Angelo DeCaro" veröffentlicht nun endlich seine erste Single "I Love The Way You Move" und wird in Zukunft die Houseszene bereichern.
Der Italiener endeckte seine Leidenschaft für die Musik bereits im Alter von 4 Jahren beim Keyboard spielen.
Später erweiterte er sein Talent, indem er zusätzlich auf zahlreichen Partys und in diversen Clubs auflegte.
Mit 16 Jahren stand sein Ziel fest: eigene Tracks mit Qualität zu produzieren.
Es folgten mehrere Remixe wie Beispielsweise der Remix für Lady Gaga's Song "Paparazzi im Rahmen des 1live Remix Contests, sowie zahlreiche, erfolgreiche Bootlegs. Hierzu zählt auf jeden Fall der absolut kreative Bootleg von "Mark Ronson featuring Bruno Mars & Prince - "Uptown Kiss".
In diesem Bootleg zeigte sich schon die wahre Leidenschaft, die Angelo DeCaro in das produzieren legt.
Die letzten Monate hat sich "Angelo DeCaro" auf seine erste Single fokussiert in die er seine ganze Inspiration einfließen ließ. Entstanden ist daraus der housige Track: "I Love The Way You Move", eine Clubbige Nummer bei der man die Füße nicht stillhalten kann.
Weiterhin befindet sich ein wunderbarer Nu-disco Remix von "Kenny Laakkinen", sowie eine chillige Electronummer von zeroblocker & deZireless auf der CD.
Erschienen ist das Ganze auf 2zRecords.
In Zukunft wird Angelo DeCaro die Houseszene, klanglich und durch seine charakteristische Note weiter prägen.
Wir sind gespannt.
iTunes | Apple Music | Spotify | Spotify | AmazonMp3 | Beatport
Wie immer für alle DJ-Pool Mitglieder im Download-Bereich kostenlos runterladbar. Noch kein DJ-Pool Mitglied? Dann schnell bei uns bewerben.