Medina - We Survive [Album Preview + Tracklist]
Mit "You And I" hatte sie einen internationalen Mega-Hit. Nun ist Medina mit einem neuen Album zurück. Das wird auf den Namen "We Survive" hören und am 26. Februar 2016 erscheinen. Eine Single aus dem Album wurde bereits zusammen mit einem Musikvideo veröffentlicht. Die Rede ist vom Titelsong des Albums "We Survive", welcher auf den gleichen Namen hört. Insgesamt sind auf dem Album 13 Tracks vorhanden. Veröffentlicht wird es als CD in Deutschland bei Amazon und Saturn und als digitaler Download bei Amazon, iTunes und Google Play.
Runnin Out Of Love
Wie immer bei einem Album behandeln wir nur ein paar der Tracks, die auf dem Album zu finden sind. Der erste Track hört auf den Namen "Runnin Out Of Love" und setzt die Stimmung für das komplette restliche Album schon mal sehr gezielt und gut. Auch fällt schnell auf, dass elektronische Elemente immer wieder recht präsent sind. Allgemein lassen sich die meisten Tracks auf dem Album als Elektro-Pop bezeichnen. Die Synths zu Beginn lösen mit den tollen Vocals von Medina eine sehr eigene Stimmung aus.
We Survive
"We Survive" ist die Single, zu der auch schon ein Musikvideo veröffentlicht wurde. Die Nummer klingt von allen auf dem Album am poppigsten und wurde deshalb wahrscheinlich auch schon vorher veröffentlicht. Hier macht gerade das Musikvideo sehr viel Spaß. Das sollte man mal gesehen haben, auch um einen besseren Eindruck vom Album zu bekommen.
Liquid Courage
Bei Track 08 nimmt das Album plötzlich eine komplette Kehrtwende vor. "Liquid Courage" klingt ziemlich dunkel und setzt anders als die vorherigen Tracks sehr stark auf elektronische Elemente. Im Laufe des Arrangements wird die Nummer zwar wieder etwas heller, aber die Grundstimmung bleibt. Gerade das gefällt hier sehr gut.
Grass
Nachdem das Album wieder recht fröhlich und hell weitergeht, kommt mit "Grass" der zweite eher dunkle Track. Und auch hier findet man wieder einen starken Fokus auf elektronische Elemente. Vor allem der pumpende Bass zu Beginn der Preview fällt einem sofort positiv auf.
Tracklist: Medina - We Survive
01. Runnin Out Of Love
02. We Survive
03. Someone New
04. Jealousy
05. Good Enough
06. Let Go
07. For U
08. Liquid Courage
09. Young In Love
10. By Your Side
11. Grass
12. Karma's A Bitch
13. Walking Mistake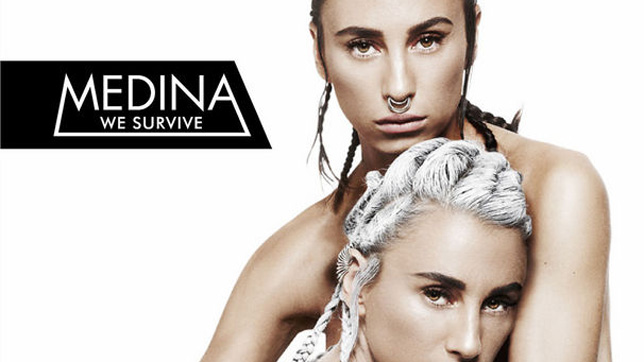 Fazit: Die Previews zum kommenden Album "We Survive" von Medina klingen alle sehr rund und gefallen bisher sehr gut. Man wird sehen, wie gut dieses Album bei den Fans ankommen wird.