Gut zwei Wochen nach dem Festival erscheint hier in Deutschland die offizielle Compilation zum Event. Mit der "Dominator 2014" Compilation kommt auf zwei CDs der echte und wahre Dominator-Sound zu euch nach Hause. Jede CD liegt in einem DJ-Mix vor, für die Miss K8 und Bloodcage verantwortlich sind. Welche Tracks sich im Detail auf der "Dominator 2014" befinden, erfahrt ihr im folgenden Artikel.
Dominator 2014: Die erste CD - mixed by Miss K8
Wem Hardstyle zu weich ist, ist sehr wahrscheinlich Hardcore, Gabbercore oder Frenchcore-Anhänger. Genau diese Styles findet ihr auf der ersten CD der "Dominator 2014". Wer nicht genau weiß, was sich hinter diesen Begriffen verbirgt, checkt einfach das Video unterhalb dieses Artikels. Hier haben wir die "Metropolis Of Massacre (Official Dominator Anthem 2014)" von Miss K8 feat. MC Nolz für euch eingebunden. Obschon dieser Track von im Hardstyle-Genre einzuordnen ist. Wie dem auch sei - er ist der Sampler-Opener. Im Weiteren befinden sich Smasher wie "Tensor & Re-Direction - Flatline (2014 Remix)", "N3AR vs. Lowroller - Minnesota" oder "Dyprax & Bodyshock - Ominous" auf der Tracklist.
Dominator 2014: Die zweite CD - mixed by Bloodcage
Eine deutliche Spur härter geht es anschließend auf der zweiten Scheibe der "Dominator 2014" weiter. Auch das Mixtempo zieht an. Hier werden 36 Titel von Bloodcage in einem grandiosen DJ-Mix gepackt. Extrem verzerrte Kicks und Volume bis zum Anschlag inklusive. "Embrionyc - When The Hate Starts To Change", "The Relic - Between Light And Shadow", "Negative A & Counterfeit - Tested On Animals" oder "Sandy Warez - We Are In The Dark (KRTM Remix)" sind nur einige weniger der vielen Tracks auf die man sich hier freuen kann. Im weiteren befinden sich Produktionen von Künstlern wie Frame Of Mind, Ruffneck und selbstverständlich dem Mixer selbst - Bloodcage - auf der Tracklist.
Dominator 2014: Kaufen oder nicht kaufen?
Besucher des Festivals kommen um diesen Sampler nicht herum. Pflichtkauf. All diejenigen, die auf Hardcore, Gabbercore, Frenchcore usw. stehen, sollten unbedingt einen Blick auf diese Compilation werfen. Gerade die erste CD überzeugt auf ganzer Linie mit seiner Songauswahl. Aber auch die härtere, zweite CD hat es in sich.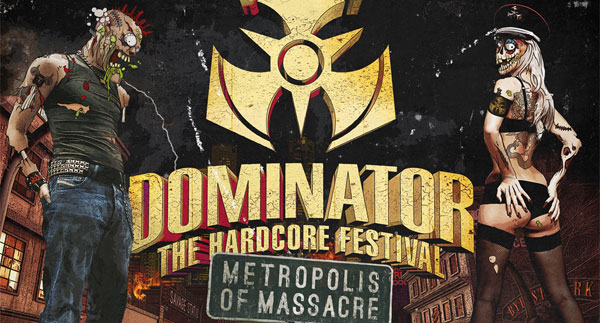 Name: Dominator 2014
Erscheinungsdatum: 01.08.2014
Anzahl-CDs: 2 (62 Tracks)
Genre: Hardcore
Label: Cloud 9 (rough trade)
Preis: 20,99€ (hier günstig kaufen)
Ähnliche Produkte: -
Tracklist: Dominator 2014
CD1: mixed by Miss K8
01. Miss K8 feat. MC Nolz - Metropolis Of Massacre (Official Dominator Anthem 2014)
02. N3AR vs. Lowroller - Minnesota
03. Noize Suppressor - Let These Motherf*kers Know
04. Re-Style & Predator - Lockdown
05. Javi Boss - My Religion
06. Miss K8 - Breathless
07. Wasted Mind - Here We Go
08. Angerfist - Burn This MF Down
09. Noize Suppressor - I'm Running Shit
10. Miss K8 & Angerfist - New World Order
11. Dione - Tearing Up The Underground (Lunatic & Miss Hysteria Remix)
12. Tensor & Re-Direction - Flatline (2014 Remix)
13. Miss K8 - Too Many Answers
14. Tha Playah feat. MC Tha Watche - Eternal (Official Masters Of Hardcore Anthem 2014)
15. Dyprax & Bodyshock - Ominous
16. Lowroller & Angerfist - Pagans
17. Neophyte - Never Part Of You
18. Negative A - Merciful
19. Hellsystem & Lowroller - Introspection
20. Radical Redemption & Drokz - Unparalelled Evil
21. Gancher & Ruin - Deranged VIP
22. Negative A - Death And Confusion
23. Unexist & Tieum - Hands Around My Neck
24. The Sickest Squad feat. Lenny - Minimal Is Criminal
25. Drokz & Partyraiser - Hardcore, Bitches, 40's And Bl
26. Riot Squad - Anxiety
CD2: mixed by Bloodcage
01. Relapse - Contamination
02. Embrionyc - When The Hate Starts To Change
03. Counterfeit - Wearing Your Face
04. Relapse - Vengance
05. Frame Of Mind - Jessica Alba
06. Bloodcage - Stress
07. Tymon - Fuck You Pay Me
08. Bloodcage - Paradise
09. N-Vitral - Sicko Cell
10. Ruffneck - Wraith
11. Peter Kurten - Angels
12. The Relic - Into The Void
13. The Relic - Between Light And Shadow
14. Bloodcage - Reject
15. I:Gor - Game Tight
16. Detest - Witch Hunt
17. Petrochemical - Annihilation
18. Sei2ure - War
19. Synapse & Ruffneck - Vows Of Doubt
20. Ophidian - The Art Of War
21. Bloodcage - Strangle And Mutilate
22. N-Vitral - The Evil Earth
23. Embrionyc - Thoughts Against Thoughts
24. Bloodcage - Strangers Empire
25. Catscan - Modular Capacity
26. Synapse & Sei2ure - Politics
27. Andy The Core vs. F. Noize - Sentenced
28. Negative A & Counterfeit - Tested On Animals
29. Tieum - Say It To My Face
30. KhaozEngine - Hidious Nightmares
31. Andy The Core - Steal This
32. Tieum feat. Dr. Core - Suce Mon Shmelz
33. Skim - The Chosen One
34. Phitrax - Interruction
35. Luxxer - Dotconnector
36. Sandy Warez - We Are In The Dark (KRTM Remix)