Cocoon Ibiza » [Tracklist]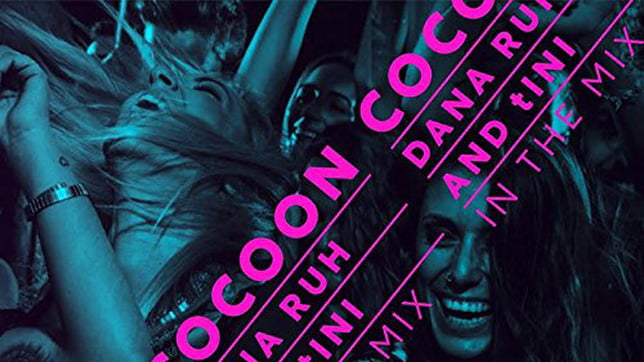 Cocoon Recordings veröffentlicht am 24. Juli die "Cocoon Ibiza" Compilation, welche von Dana Ruh und tINI gemixt wurde. Auf zwei CDs gibt es hier den Underground-House der spanischen Insel akustisch zu bestaunen. Die "deep-technoide" Stimmung und Atmosphäre Ibizas haben sich mit den 29 Tracks des Samplers zusammengefunden. Seit nunmehr über 16 Jahren ist Sven Väth - Head of Cocoon Recordings - auf Ibiza Jahr für Jahr auf der "White Isle" aktiv. Wer den Sound des legendären Amnesia in Verbindung mit Väath haben möchte, ist bei der "Cocoon Ibiza" an der richtigen Adresse. Werfen wir zunächst einen Blick auf die Tracklist.
CD1: mixed by Dana Ruh
01. Osunlade - The Realm of Difference
02. Daniel Stefanik - Reactivity 8
03. LoShea - Take 2
04. Funk E - Wu Wei
05. Guido Schneider & Andre Galluzzi - Mario (ToFu Productions dubdub)
06. Niro - Agachoo (Fred P Reshape)
07. DJ Pierre - What is House Muzik (Ricardo Villalobos Remix)
08. Szare - Pressure (Ryan Elliot Edit)
09. Agnes - Who Cares!
10. Move D & DJ Jus-Ed - Acid Grind
11. Mr. G - Whant It
12. Amir Alexander presents Richie Ratchet - Infinity
13. Company Is Family - Naomi (Spencer Parker Remix)
14. Dana Ruh - I'm Surprised What's Real
15. Nicuri - Holding The Four Winds

CD2: mixed by tINI
01. Alex & Digby - Cardio
02. Persuader - Blåklocka
03. Nina Soul - In The Morning Said
04. Alci - Karmas Groove
05. Daniela La Luz - Feel The Future
06. Fosky - Dirty Lies
07. TC Studio - So Sick
08. Third Wave Trax - 002-B1
09. Glance - Time (Original Beats)
10. Anthea - Relative Theory (Unreleased Deepmix)
11. Aruba - How Low Can You Go?
12. Arktapes - 003-A1
13. Mariano Metaljan - Nocturnal
14. Kamran Sadeghi - As Is MX3
Cocoon Ibiza: Die erste CD mixed by Dana Ruh
15 Titel umfasst die erste Silberscheibe der "Cocoon Ibiza". Dana Ruh beginnt ihren Mix mit der "The Realm of Difference" von Osunlade. Dieser ruhige chillige Track macht den Opener und steigert die Neugier auf mehr. Im Weiteren folgen Produktionen wie "Agachoo" im Fred P Reshape Mix von Niro, die 5 Jahre alte "Agnes - Who Cares!" oder die überaus coole "Move D & DJ Jus-Ed - Acid Grind". Selbstverständlich finden wir auch musikalisches Material von Dana Ruh selbnst auf dieser CD der "Cocoon Ibiza". Ihre "I'm Surprised What's Real" lässt grüßen.
Cocoon Ibiza: Die zweite CD mixed by tINI
Die zweite CD der "Cocoon Ibiza" steht der ersten in nichts nach. 14 Tracks hat tINI im DJ-Mix untergebracht. Viele tINI Remixe / Mixe sind hier am Start (Persuader, Nina Soul, Third Wave Trax und Aruba). Aber auch Produktionen wie "Daniela La Luz - Feel The Future", "Kamran Sadeghi - As Is MX3" oder "TC Studio - So Sick" überzeugen. Wer auf den richtig deepen, tiefgehenden Sound Cocoon Recordings steht, ist hier nicht falsch. Der perfekte Soundtrack für Sonnenauf,- und Untergänge auf der spanischen Insel Ibiza.
Kaufen oder nicht kaufen?
Wer einmal im Amnesia auf Ibiza den Klang Cocoon Records geschnuppert hat, und weiß wie intensiv man dazu feiern kann, darf sich gerne dieses Sampler zulegen. Hier bekommt ihr von Dana Ruh un tINI auf zwei CD genau dieses Sound geboten. Der Preis beträgt 19,99€. Am 24. Juli ist VÖ. Wer eher den kommerziellen Halli-Galli Sound Ibizas sucht, ist hier falsch. Nur für Freunde des Undergrounds geeignet. Dafür aber umso mehr! Empfehlung für Genre-Fans! Wie das klingen kann, könnt ihr im Folgenden hören. Die "WU Wei" befindet sich auf der ersten CD.