Musikvideo » Fun Factory - Turn It Up
Das ist mal ein Comeback! Die Fun Factory meldet sich mit neuer Single und kommenden Album zurück. Der 90er Jahre Eurodance-Act (Hits: "I Wanna B With U", "Celebration" oder auch "Doh Wah Diddy") koppelt gerade die erste Single "Turn It Up" aus. Am 5. August 2016 erscheint das Album "Back To The Factory". Das Besondere: die Fun Factory hat mit KONTOR Records ein adäquates Label gefunden, das sicherlich in der Lage ist das Comeback erfolgreich stattfinden zu lassen. Auch waren die Bedingungen nie besser. Sind die 90er Jahre doch zur Zeit extrem angesagt. Wenn in Hit-Act aus dieser Dekade sich neu erfinden möchte, hat sie aktuelle gute Chancen dafür. Mit "Turn It Up" haben sie auch einen sehr guten Song im Gepäck.
2016 - Das Comeback für Fun Factory
Bereits in den Jahren 1998 und 2007 gab es nach vorherigen Auflösungen Comebacks für die Fun Facotry, die sich im Jahr 1990 gegründet haben. Smooth T. , Balca, Steve, Ski lauten die Namen der aktuellen Besetzung. Wobei Smooth T. alias Toni Cottura den einen oder anderen bekannt vorkommen dürfte. Er hatte vor allen in den 90er Jahren als Produzent zahlreiche Hits in den Charts.
Mit "Turn It Up" wird nun eine neue Ära eingeläutet. Musikalisch gelingt die Gratwanderung - Raps und Stilelemente, die nach dem typischen 90er Jahre Eurodance klingen, verbunden mit Beats des Jahres 2016. Eine gute Mischung die funktioniert. Vor allen auch, weil man den Trash-Faktor, den die 90er Jahre per se mitbringen, weggelassen hat.
Das Album "Back to the Factory" kann bereits vorbestellt werden und wird mit 18 Tracks, einem Megamix und einem Exklusive Album Mastermix an den Start gehen. Die Ü30-Generation darf sich also freuen. Neue und frische Musik von denjenigen, die einem damals beim Aufwachsen begleitet haben. Aber auch die Kids von heute dürften ihre Freude mit dem Comeback der Fun Factory haben.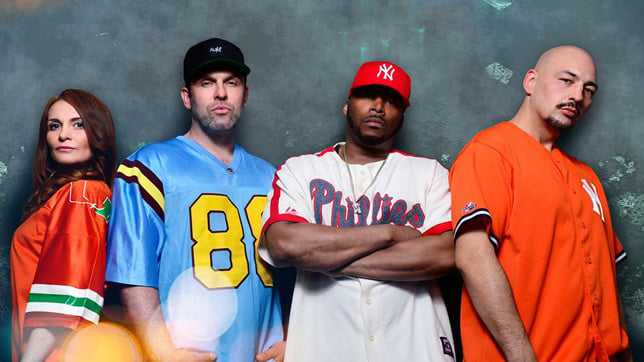 Fazit: Eine gute Idee der Fun Factory mit einem Comeback an den Start zu gehen. Dass die alten 90er Jahre Acts momentan viel gebucht sind, ist kein Geheimnis. Dass man im Zuge dessen sich musikalisch neu erfindet ist ein kluger Schachzug. Mit einem guten Song, einem coolen Video und KONTOR Records als starken Partner im Boot kann das Comeback gelingen. Vor allen darf man auch auf das Album gespannt sein, das Anfang August in den Handel geht. Die erste Single-Auskopplung "Turn It Up" überzeugt jedenfalls.