Am 11.10.2013 erscheint mit der "Kontor Sunset Chill - All Time Classics" eine ganz besondere Compilation aus dem Hause KONTOR RECORDS Hamburg. Auf drei CDs befinden sich 60 Titel, die wahrlich zu den besten Songs ihres Genre gehören. Chillout und Lounge Musik vom Feinsten. Zum Preis von 18,99€ bekommen Käufer eine hervorragende Sammlung an guter Musik und eine kleine Zeitreise durch das Genre obendrein. Überzeugt euch am besten selbst mit dem offiziellem Minimix, den wir unten für euch eingebunden haben.
"Kontor Sunset Chill" wurde im Jahr 2001 erstmals gestartet. Bis heute hat sich die Sampler-Reihe zu einer der erfolgreichsten und beliebtesten Serie ihres Genre entwickelt. So wundert es auch nicht, dass die Compilation stets in den Media Compilation Album-Charts vertreten ist. Mit den Klängen und Sounds der "Kontor Sunset Chill" holt man sich den Sommer und den Urlaub in sein Wohnzimmer. Wer es etwa schneller und clubbiger mag, sollte sich unbedingt mal die aktuelle "Kontor Top of the Clubs Vol. 60" anschauen.
Mit der "All Time Classics" Ausgabe erhält man quasi das Beste aus den vergangenen zwölf Jahren der Serie. Mit dabei sind unter anderem Tracks von Künstlern wie zum Beispiel: Lovebirds feat. Stee Downes, Ninetoes, Paul Kalkbrenner, Sander van Doorn, Eric Prydz, Blank & Jones, Tiësto feat. Jes und viele mehr. Die vollständige Tracklist des empfehlenswerten Compilation haben wir hier für euch am Start.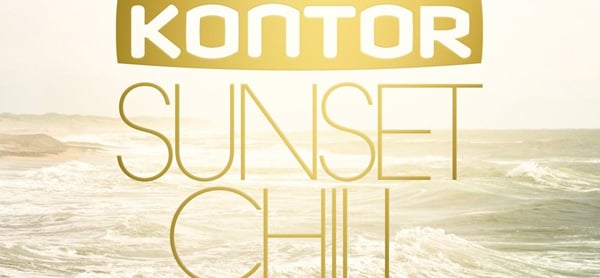 Tracklist: Kontor Sunset Chill - All Time Classics
CD1:
01. Lovebirds feat. Stee Downes – Want You In My Soul (Original Mix)
02. Solomun & DJ Phono – Ice Cream and Bonus Miles
03. andhim – Hausch
04. HVOB – Always Like This (andhim Remix)
05. Ninetoes – Finder (Original)
06. Julien Jabre – Swimming Places (Original Mix)
07. Agoria – Panta Rei (Balearic Mix)
08. Ante Perry vs Tube & Berger – Ever Never (Original)
09. Magic Eye – Inside My Love (Original Mix)
10. Layo & Bushwacka – Love Story
11. Nora En Pure – Come With Me (Original Mix)
12. Code 718 – Equinox (Henrik Schwarz Remix)
13. UNER – Cocoua
14. Kraak & Smaak – The Future Is Yours
15. Lusine – Two Dots (Nic Fanciulli Remix)
16. Tom Novy feat. Amadeas – Dancing In The Sun (Club Mix)
17. Walter Jones – All God's Children (Original Uncut)
18. Daniel Bovie & Roy Rox – Kiss The Moon (Salinas Beach Mix)
19. Rockers Hi Fi – Push Push (M.A.N.D.Y.'S Pusher Remix)
20. Niconé & Sascha Braemer feat. Narra – Caje
CD2:
01. Paul Kalkbrenner – Aaron
02. Dubtribe Sound System – Do It Now (Original)
03. Dølle Jølle – Balearic Incarnation (Todd Terje's Extra Døll Mix)
04. Aloud – Sex & Sun Part II
05. Ripperton – Random Violence
06. Afterlife feat. Cathy Battistessa – Let It Go (Original)
07. Way Out West – The Gift (Gui Boratto's Fallopian Mix)
08. South Street Player – (Who?) Keeps Changing Your Mind (Daniel Bovie & Roy Rox Remix)
09. Super Flu – Poppycock
10. Crazy P – Never Gonna Reach Me (Hot Toddy Mix)
11. Satin Jackets – Hollywood (Chris Jylkke Miami Mix)
12. Mr. Fingers – Can You Feel It
13. Lucien N Luciano – Behind My Soul
14. Shakedown – At Night (Afterlife Mix)
15. Knee Deep – All About Love (KD Original Mix)
16. Solomun – Hypnotize
17. Sander van Doorn – Lobby
18. Eric Prydz – Pjanoo (Afterlife Remix)
19. Roy Davis Jr. Feat. Peven Everett – Gabrielle (Live Garage Version)
20. Coldcut feat. Robert Owens – Walk A Mile In My Shoes (Henrik Schwarz Remix)
CD3:
01. Blank & Jones – Coming Home (Afterlife Remix)
02. Afterlife – Speck Of Gold
03. N.E.R.D. – Provider (Zero 7 Remix)
04. Electribe 101 – Talking With Myself (Frankie Knuckles Mix)
05. Superpitcher – Joanna
06. ATB – Trilogy
07. FC Kahuna feat. Hafdis Huld – Hayling
08. Tiësto feat. Jes – Everything (Acoustic)
09. Carl Craig – A Wonderful Life
10. Lykke Li – Dance, Dance, Dance (Album Version)
11. The Shapeshifters – Lola's Theme (Lola's Loungin' Mix)
12. Saints & Sinners – Peace (Michael Woods Remix)
13. International Pony – Solid Gold (The Lost Version)
14. Omar – There's Nothing Like This
15. Christian Prommer – Sueno Latino (DJ Hell's All You Need Is Love Remix)
16. Bedrock – Beautiful Strange (Ambient Mix)
17. Energy 52 – Cafe Del Mar (Michael Woods Remix)
18. LTJ X Perience – Moon Beat
19. Banderas – This Is Your Life (Easy Life Mix)
20. Moby – Sunday (The Day Before My Birthday)