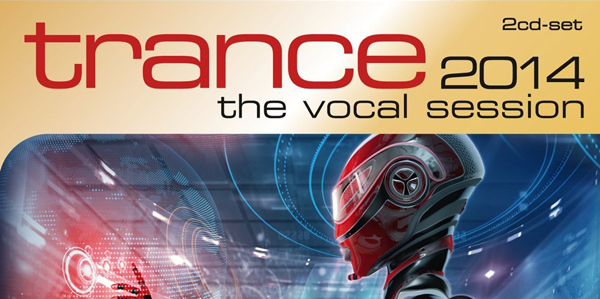 Am 08.11.2013 erscheint mit der "Trance: the Vocal Session 2014" eine tolle Compilation für alle Trance-Fans. Im speziellen gibt es hier auf zwei CDs mit seinen 40 Titeln vor alemm Vocal-
Trance-Titel auf die Ohren. Das legendäre Label Zyx-Music bringt den Sampler zu einem günstigen Preis von 14,99€ auf den Markt. Schon alleine deswegen sollten Anhänger des Genre hier mal genauer hinsehen. Denn die Tracklist ist hervorragend ausgewählt.
Mit dabei sind unter anderem Tracks von Künstlern wie zum Beispiel: Kyau & Albert, Dash Berlin & Alexander Popov, John O'callaghan, Alex M.o.r.p.h. & Woody Van Eyden, Aly & Fila Feat. Sue Mclaren, Roger Shah, Jes & Brian Laruso, Gabriel & Dresden Feat. Neil O, Armin Van Buuren Feat. Trevor und viele mehr. Man sieht: Das Who-is-Who der aktuellen internationalen Trance-Szene ist hier vertreten. Und nun für euch die vollständige Titelliste der "Trance: the Vocal Session 2014".
CD1:
01. Christian Burns & Paul Van Dyk - We Are Tonight (Radio Edit)
02. Kyau & Albert - The One (Club Mix)
03. Bt & Aqualung - Surrounded (Super8 & Tab Radio Edit)
04. Dash Berlin & Alexander Popov - Steal You Away (Radio Edit)
05. Trance Arts Feat. Hysteria! - Heaven In Disguise (Original Edit)
06. Patrick Hagenaar Feat. Sarah M - Magik (Radio Edit)
07. Frozen Skies Feat. Mark Engels - Hymn (Radio Version)
08. John O'callaghan & Full Tilt F - Breathe (Radio Edit)
09. Aboutblank Feat. Gemma Pavlovi - Finish Line (Radio Edit)
10. Andy Duguid & Audrey Gallagher - In This Moment (Radio Edit)
11. Moonbeam Feat. Leusin - Flight (Club Mix)
12. Fawni - Chasing Cars (Original Radio Edit)
13. First State Feat. Fenja - Battle Of Hearts (Radio Edit)
14. Jam Da Bass Feat. Leika - Free (Radio Mix)
15. Thomas Petersen Feat. Ina Morg - Rendez-vous (Radio Edit)
16. Rene Ablaze & Jacinta - You're My Destination (New Radio Mix)
17. Mason Tyler - Bring Back The Love (Original Edit)
18. Alex M.o.r.p.h. & Woody Van Eyden - I See You (Radio Edit)
19. Ferry Corsten Feat. Aruna - Live Forever (Radio Edit)
20. Tiesto - Adagio For Strings (Blasterjaxx Remix)
CD2:
01. Aly & Fila Feat. Sue Mclaren - Mysteries Unfold (Radio Edit)
02. Gabriel & Dresden Feat. Neil O - Tomorrow Comes (Radio Edit)
03. Markus Schulz Feat. Sarah Howe - Tempted (Dennis Sheperd Radio Edit)
04. Roger Shah, Jes & Brian Laruso - Higher Than The Sun (Radio Edit)
05. Kimura Feat. Christi - Tonight (Cold Rush Remix Edit)
06. M.i.k.e. Vs. York Feat. Asheni - Across The Ocean (Radio Edit)
07. Armin Van Buuren Feat. Trevor - This Is What It Feels Like
08. Jason Parker - Castles In The Sky 2013 (JP Radio Version)
09. Hardcharger Vs. Aurora & Toxic - One Kiss (Original Radio Edit)
10. Julie Thompson With Super8 & T - Your Secret's Safe (Tom Fall Remix)
11. Ronski Speed Feat. Lucy Saunde - Rise Again (Omnia Remix)
12. Silver & Dave Feat. Ayling - What We Feel (Original Edit)
13. Van Snyder - Love For Eternity (Video Edit)
14. Aurosonic & Martire Feat. Aely - Paradise (Radio Edit)
15. Robbie Miraux - Feel Like A Superstar (Radio)
16. Geeno Fabulous & Crew 7 - Fuck It (i Don't Want You Back) (Club Edit)
17. Pulsedriver - Cambodia (CJ Stone Edit)
18. Dj Noise - Restless Dreams (Thomas Petersen Remix Edit)
19. Da Hool Feat. Emmalyn - Into The Unknown (Antillas & Dankann Radio Edit)
20. Andre Fennell - Everything Tonight (Radio Edit)