Daybreak Sessions by Tomorrowland 2017 Selection » [Tracklist & Minimix]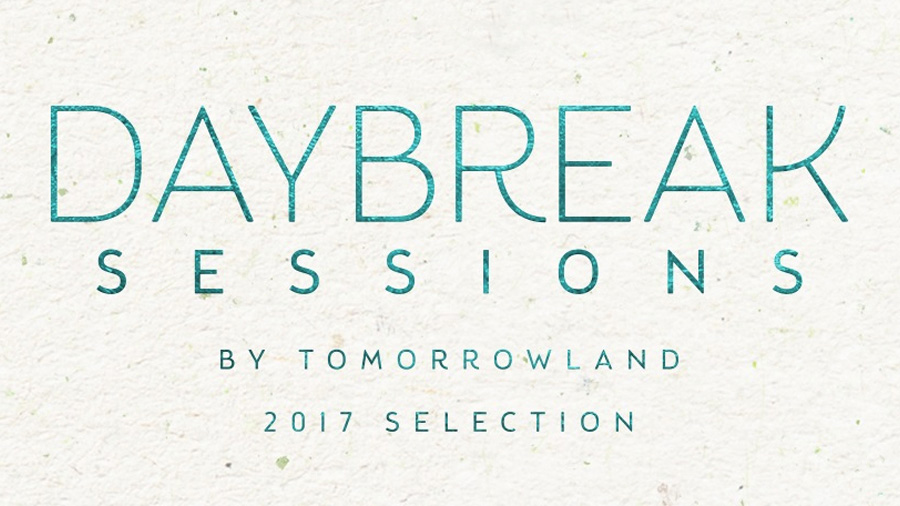 Daybreak Sessions by Tomorrowland 2017 Selection
Das Tomorrowland rückt immer näher. Um die Wartezeit bis zum gigantischen Festival ein wenig zu verkürzen, gibt es nun mit Daybreak Sessions by Tomorrowland 2017 Selection einen Sampler mit drei CDs an Deep-House- und Tech-House-Tracks. Nun bereits zum dritten Mal werden auf der Mainstage des Tomorrowlands die sogenannten Daybreak Sessions stattfinden, auf diesen treten Megastars der House-Szene auf, um mit eher chilligen Beats den Festivaltag einzuläuten. Auf der Compilation kann natürlich genau diese Musik gefunden werden.
CD1: Friendship (Mixed by Claptone)
01. Cubicolor - Dead End Thrills
02. Just Her feat. Kieran Fowkes - Let Myself Go
03. Bob Moses - All I Want
04. Martin Waslewski - Getting Lonely
05. Yass - Been A Long Time (David Penn Remix)
06. Dilby - Work That Body
07. CamelPhat - Lizard King
08. Franky Rizardo - Same Man
09. Alaia & Gallo feat. Lupe Fuentes - Lose My Mind
10. The Golden Boy - Egyptian Lover (Latmun Remix)
11. Claptone feat. George Kranz - The Drums (Din Daa Daa)
12. Idris Elba - Make It Bump (Andrea Oliva Remix)
13. Robosonic & Klangkuenstler - Nuts
14. Riva Starr - Another Dimension
15. Red Rack'em - Wonkey Bassline Disco Banger (Kink Remix)
CD2: Beauty (Mixed by Gorje Hewek & Izhevski)
01. Powel - CT3
02. Gorje Hewek & Izhevski - Jungsein-Youth
03. Cornucopia - The Day You Got Older and Stronger
04. Simon Vuarambon - Leman
05. Hosini - Lucid Dreams (GHIZ Retouch)
06. Gorje Hewek & Izhevski - Halcyon
07. Gorje Hewek & Izhevski - RVNZ Sketch Two
08. M.O.F. feat. GHIZ - This Must Be The Place
09. WhoMadeWho - Heads Above (Kollektiv Turmstrasse Remix)
10. Lost Desert - Seringeti Nightfall
11. Facundo Mohrr & Valdovinos - Trust
12. Bona Fide - Amirale
13. Zone+ - Places (Powel Remix)
14. Christian Loeffler - Youth
CD3: Unity (Mixed by Kölsch)
01. Nils Frahm - For - Peter - Toilet Brushes - More
02. Lane 8 & Kidnap Kid - Aba
03. Sasha - Vapour Trails (Kiasmos Remix)
04. Guy Gerber & Deniz Kurtel - Here Comes The Rain
05. John Monkman - XAILO
06. Pablo Bolivar - Dahnser
07. Solee - Morgenrotsonate
08. Undercatt - Futura
09. Reboot - Just Hang On (Kölsch Dub Remix)
10. Sahar Z & Guy Mantzur - The Man Who Souled The World
11. Third Son - Agnus Dei
12. Several Definitions & Marc DePulse - Birds
13. Marc Marzenit - Melancholy Street
14. andhim - German Winter
15. Eddish - Little Helper 264-1
16. Nils Frahm - For - Peter - Toilet Brushes - More



Daybreak Sessions by Tomorrowland 2017 Selection: Die erste CD
Die erste CD hat niemand Geringeres als das mysteriöse, selbsternannte Fabelwesen Claptone aus Hamburg zusammengestellt. Der DJ, der gänzlich hinter seiner Maske verschwindet, steht nun bereits seit geraumer Zeit für feinsten deutschen Deep House. Aber nicht den, der Robin Schulz und Felix Jaehn großmachte, nein, den, der musikalisch anspruchsvoll ist und von der internationalen DJ-Elite regelmäßig in entspannte Sonnenuntergangsmixe eingebunden wird. Für die Daybreak Sessions Compilation hat sich Claptone schön groovige, aktivierende Tech-House-Platten herausgesucht. Perfekt, um die Hüften zu schwingen.

Daybreak Sessions by Tomorrowland 2017 Selection: Die zweite CD
Milder und sphärischer geht es auf der zweiten CD ab. Gemixt von Gorje Hewek & Izhevski, zwei waschechten russischen Deep-House-Ambassadoren, trifft hier Melancholie auf dumpfe Beats und orientalische Klänge. Bereits nach wenigen Minuten schwebt man auf einer sanften Wolke und treibt unter den Sonnenstrahlen dahin. Eine echte Empfehlung ist übrigens Titel neun, "Heads Above", von Whomadewho im Kollektiv Turmstraße Remix.

Daybreak Sessions by Tomorrowland 2017 Selection: Die dritte CD
Rune RK alias Kölsch zählt zu den meistangebeteten Produzenten in der Welt der elektronischen Musik. Für die dritte CD hat der Musiker also diverse füllige Deep-House- und Dub-House-Titel ausgewählt. Diese Musik ist nicht seicht, nicht leicht und dennoch so genial harmonisch und entspannend. Dieser melodische House macht direkt Lust auf eine ordentliche Portion Techno auf einer der anderen Tomorrowland-Bühnen im Anschluss an die Daybreak Session.

Fazit - Lohnt sich ein Kauf der Daybreak Sessions by Tomorrowland 2017 Selection?
Mit dieser Compilation holst du dir ein breites Spektrum an melodischer elektronischer Tanzmusik in dein Wohnzimmer. Alle drei Mixe sind gut abgestimmt und schaffen ihre ganz eigene Atmosphäre. Für 19,95 € kannst du den Sound der angesagten Daybreak Sessions auf dem Tomorrowland Festival bereits jetzt hören. Auch als Geschenk eignet sich die CD gut, die Hülle ist aus hochwertiger Pappe und macht etwas her. Wenn du dir noch nicht so sicher bist, ob der Sampler wirklich etwas für dich ist, dann hör' doch einfach mal in den offiziellen Minimix hinein.