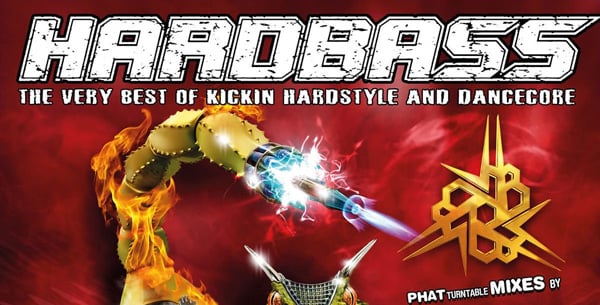 Die "Hardbass Chapter 26" kommt am 01. November 2013 auf den Markt. Die extrem beliebte Hardstyle und Dancecore Compilation aus dem Hause Universals geht mittlerweile in die 26. Runde und knallt mit einer beeindruckenden Tracklist aus den Boxen. Es herrscht also keine Katerstimmung nach dem grandiosen Jubiläum, welches die Sampler-Reihe mit seiner letzten Ausabe feierte. Aus diesem Grund geht es auch direkt weiter. Viele hochkarätige Acts und Künstler des härteren Dance-Genres geben sich auf der "Hardbass Chapter 26" wieder die Klinke in die Hand.
Mit dabei sind dieses Mal unter anderem Tracks von Jungs wie zum Beispiel: Hardwell & Dyro, Art Of Punk & Illuminatorz, ass Modulators & Audiotricz, Giorno, Nicky Romero & Krewella, Zatox & Activator, D-Block & S-Te-Fan, Outlander und viele mehr. Harte Bässe und dicker Sound ist also garantiert. Wie gewohnt sind die beiden Silberlinge mit den insgesamt 54 Tracks durchgemixed. Der Kostenpunkt für diese Compilation liegt bei 20,99€. Nicht ganz so günstig, aber die Qualität rechtfertigt hier den Preis. Fans des Genres sollte zugreifen und einen Kauf sicher nicht bereuen.
CD1 wurde von Art Of Punk & Illuminatorz gemixed und compiliert, die auch gleich mit ihrem Titel "The Beginning 2.6" die ersten Klänge dieser CD liefern. Die zweite CD wurde von Outlander & Da Tweekaz beigesteuert. Dementsprechend finden wir auch einige Outlander Bretter auf dieser CD vor. Hier gibt es übrigens auch ein kleines Revival auf das letzte Tomorrowland Festival 2013. Viele der auf dieser CD vorhandenen Songs, spielen in diesem Sommer eine große Rolle. Und jetzt nun für euch die vollständige Tracklist der "Hardbass Chapter 26".
CD1 Mixed by Art Of Punk & Illuminatorz
01. Art Of Punk & Illuminatorz - The Beginning 2.6
02. Hardwell & Dyro feat. Bright Lights - Never Say Goodbye
03. TNT & Audiofreq - Screwdriver
04. Brennan Heart & Jonathan Mendelsohn - Imaginary
05. Bass Modulators & Audiotricz - Feel Good
06. Sparks (Turn Off Your Mind) - Fedde Le Grand, Nicky Romero, Featuring Matthew Koma
07. Illuminatorz - Tell Me Why
08. Giorno - The Way
09. Lolita Jolie - I Wanna Dance With You
10. Dexter & Gold - Gonna Make You Sweat (Everybody Dance Now)
11. Wildstylez feat. Cimo Fränkel - Lights Go Out
12. Audiotricz & Atmozfears - Dance No More
13. El Grekoz feat. Yuna-X - The Wonder Of Music
14. Rebourne & Omegatypez - Melodic Madness
15. Coone feat. Chris Madin - Our Fairytale (Theme Of Tomorrowworld 2013)
16. Brennan Heart - F.I.F.O.
17. Nicky Romero & Krewella - Legacy (Wildstylez Remix)
18. Code Black - Feels Good
19. Outbreak feat. DV8 Rocks! - Get The Mean
20. Wildstylez & Max Enforcer feat. Frankie Mccoy - Lose Control
21. Ran-D - The Twilight Zone
22. Nicco & Dank - Into The Light
23. Black'n'Jack - Headturner
24. Bass-T & Friends - Shine Your Light
25. Faruk Sabanci feat. Jaren - Discover
26. Technoboy & Isaac - Digital Playground
27. Sound Rusherz - Life Changer
28. The Pitcher & Lady Faith - Fame
29. Waverider - Outer Space
30. Nagoom - Elements
CD2 Outlander & Da Tweekaz
01. Da Tweekaz feat. Anklebreaker - Music Is My Drug
02. D-Block & S-Te-Fan & Audiofreq - Drumz!
03. In-Phase - Here We Go
04. Da Tweekaz - Real Love
05. Dj Phil Ty - A Kay A
06. Wild Motherfuckers - Wild Wild West
07. Wasted Penguinz & Da Tweekaz - Island Refuge
08. TNT - Tarantula
09. Frequencerz & In-Phase - Fight For Survival (Hard Driver Remix)
10. Zatox & Activator - Make Some Noise
11. Outbreak - Survival
12. Outlander - Flying Space Monster
13. Coone feat. K19 - Times Getting' Hard
14. Sylence - Infinite Dream
15. Outlander - Delighted
16. Wasted Penguinz - Sydney
17. Phuture Noize & Josh & Wesz - Liberal
18. Outlander - Our World
19. Outlander - Devotion -
20. Audiofreq - Volition
21. Outlander - Telepathy
22. Hard Driver & MC DL - The Hunter
23. TNT - Skinner
24. Hard Driver - The Cold Angel (Frequencerz Remix)