Am 26.11.2013 kommt mit "Ministry of Sound – The Annual 2014" die neue Major-Compilation des englischen Labels Ministry of Sound auf den Markt. Auf drei CDs werden 60 brandaktuelle Titel geliefert, die das Herz eines jeden Club-Musik Fans höher schlagen lassen sollte. Nicht umsonst zählt die "Annual"-Sampler Reihe zu den weltweit bekanntesten Compilations überhaupt. Sie ist neben der "Clubbers Guide"-Reihe das Aushängeschild von Ministry Of Sound.
Seit nunmehr über 20 Jahren steht Ministry Of Sound für hochwertigste Club Musik. Dabei werden nahezu alle Facetten der EDM abgedeckt. Dies spiegelt sich auch in der Tracklist der "Ministry of Sound – The Annual 2014" wieder. Mit dabei unter den 60 Tracks sind Hits von Künstlern wie zum Beispiel: Avicii Vs Nicky Romero, Calvin Harris & Ellie Goulding, Duke Dumont Feat. A*M*E, Fatboy Slim & Riva Starr, Bastille, DVBBS & Borgous, Armin Van Buuren, Robin Thicke feat Pharrell, Armand Van Helden und viele mehr,
Wie schon die "Ibiza Annual 2013" wieder die "The Annual 2014" ein großer internationaler Erfolg werden. Da sind wie uns sicher. Zwar sind nicht mehr alle Tracks auf den drei CDs taufrisch, rocken aber die Bude und sich große Hits im Frühjahr / Sommer 2014 gewesen. Die vollständige Tracklist haben wir hier für euch am Start.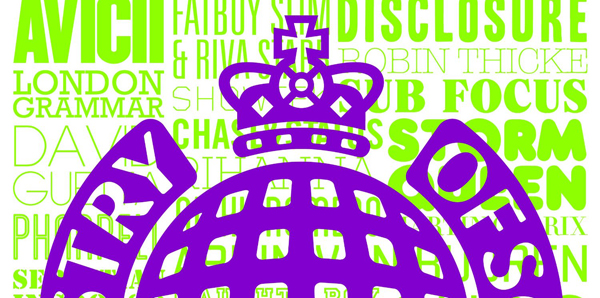 Tracklist: Ministry of Sound – The Annual 2014

CD1:
01. Storm Queen – Look Right Through (MK Vocal Mix)
02. Avicii Vs Nicky Romero – I Could Be The One Nicktim (Radio Edit)
03. Calvin Harris & Ellie Goulding – I Need Your Love (Original Mix)
04. Empire Of The Sun – Alive (David Guetta Remix)
05. Disclosure – White Noise (Radio Edit)
06. Duke Dumont Feat. A*M*E – Need U (100%) (Radio Edit)
07. London Grammar & Disclosure – Help Me Lose My Mind (Radio Edit)
08. Hot Natured – Isis (Radio Edit)
09. Chris Malinchak – So Good To Me (Radio Edit)
10. Skream – Rollercoaster (Original Mix)
11. Le Youth – C O O L (Radio Edit)
12. Bondax – Giving It All (Radio Edit)
13. Gabrielle Aplin – Please Don t Say You Love Me (Cyril Hahn Remix)
14. Monkey Safari – Hi Life Jonas (Rathsman Remix)
15. Rachel Row – Follow The Step (Kink Beat Mix)
16. FCL – It's You (MK Remix)
17. Lxury – JAWS (Original Mix)
18. Clean Bandit – Dust Clears (Original Mix)
19. Dennis Ferrer – Mind Ur Step (Original Mix)
20. No Artificial Colours feat Alex Mills – Crying Wolf (Original Mix)
CD2:
01. Fatboy Slim & Riva Starr – Eat, Sleep, Rave, Repeat (Calvin Harris Remix)
02. Example – All The Wrong Places (Radio Edit)
03. Sebastian Ingrosso & Tommy Trash – Reload (Vocal Mix)
04. Knife Party – LRAD (Radio Edit)
05. DVBBS & Borgous – Tsunami (Original Mix)
06. Armand Van Helden & Herve – Power of Bass (Original Mix)
07. Armin Van Buuren – This Is What It Feels Like (Original Mix)
08. Bastille – Pompeii (Kat Krazy Remix)
09. Rihanna – Diamond (Congorock Remix)
10. Afrojack Feat Chris Brown – As Your Friend (Original Mix)
11. Zedd – Clarity (Radio Edit)
12. Alesso & One Republic – If I Lose Myself Alesso Vs One Republic (Extended Mix)
13. Nicky Romero & Nervo – Like Home (Original Mix)
14. Pryda – Layers (Original Mix)
15. Sander Van Doorn – Neon (Original Mix)
16. Alex Metric & Jacques Lu Cont Feat. Malin – Safe With You (Original Mix)
17. Mark Knight & Funkagenda – Man With The Red Face (Hardwell Remix)
18. Showtek & Noisecontrollers – Get Loose (Tiesto Remix)
19. Iggy Azeala – Work (Jacob Plant Remix)
20. Grum – The Theme (Original Mix)
CD3:
01. Robin Thicke feat. Pharrell – Blurred Lines (Radio Edit [No Rap])
02. DJ Fresh & Diplo – Earthquake (Original Mix)
03. Chase & Status – Lost & Found (Radio Edit)
04. Sub Focus – Tidal Wave (Radio Edit)
05. John Newman – Love Me Again (Gemini Remix)
06. London Grammar – Strong (High Contrast Remix)
07. Naughty Boy ft. Sam Smith – La La La (Kaos Mix)
08. AlunaGeorge – Attracting Flies (Bauuer Remix)
09. Armand Van Helden feat Spank Rock – I KnowA Place (Original Mix)
10. Redlight – Switch It Off (Original Mix)
11. Friend Within – Renegade Master (Original Mix)
12. Wretch 32 Feat. Shakka – Blackout (T Williams Remix)
13. Wookie Feat. Eliza Doolittle – Hype (Original Mix)
14. Dillon Francis feat. T.E.E.D – Without You (Original Mix)
15. Tourist – Together (Original Mix)
16. Artful Dodger Feat. Zoe Kypri – No I Turn You On (Disclosure Remix)
17. Wiley Feat. Chip - Reload (Pantha Remix)
18. DJ Fresh Vs Jay Fay – Dibby Dibby Sound (Dub Mix)
19. DJ Snake – Bird Machine (Original Mix)
20. Dizzee Rascal – Bassline Junkie (Clean Radio Edit)