Am 22.11.2013 ercheint die "Club Sounds - Best of 2013". Auf drei CDs bekommt ihr 66 Tracks geliefert, die in diesem Jahr die Clubs, Discotheken und Floors der Nation gerockt haben bzw. noch rocken. Das Beste vom Besten quasi. Kaum ein Jahr war bisher erfolgreicher für Dance-Musik als das Jahr 2013. Grund genug sich die Sonderausgabe der "Club Sounds" Compilation-Serie einmal genauer anzusehen. Aber nicht vergessen: Am 08.11.2013 erscheint natürlich auch noch die "Club Sounds Vol. 67".
Auf dem empfehlenswerten Sampler "Club Sounds - Best of 2013" befinden sich EDM-Perlen wie "DJ Antoine - Bella Vita", "Calvin Harris feat. Ellie Goulding - i need your love" oder auch "Martin Garrix - Animals". Wie man sieht eine gute Mischung als modernen Klassikern und aktuellen Bomben, die nach wie vor die Tanzflächen der Nation beherrschen. Genau so und nicht anders muss eine "Best Of" Serie gestaltet werden. Hinzu kommt der akttraktive Preis von 19,99€, welcher die Compilation endgültig zum heissesten Anwärter aller "Best Of 2013" Sampler in diesem Jahr werden lässt.
Ob Icona pop, Pitbull feat. christina aguilera, Jason derulo, Darius & finlay, G&G, Otto knows oder die Bingo Players - hier sind sie alle zusammen versammelt. Eine schöne, kleine Zeitreise also durch das musikalische Dance-Jahr 2013 liefert uns SONY Music mit dieser Compilation. Und hier nun für euch die vollständige Tracklist der "Club Sounds - Best of 2013".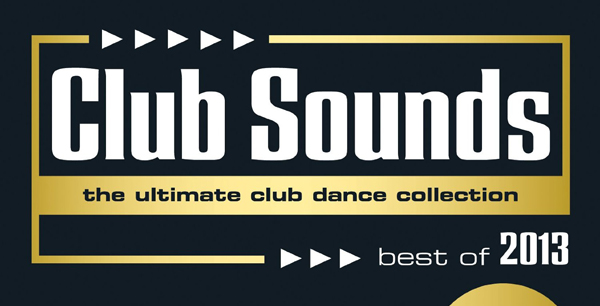 CD1:
01. Calvin Harris Feat. Ellie Goulding - I Need Your Love
02. Pitbull Feat. Christina Aguilera - Feel This Moment
03. Icona Pop Feat. Charli Xcx - I Love It
04. Olly Murs Feat. Flo Rida - Troublemaker
05. Madcon Feat. Kelly Rowland - One Life (Bodybangers Remix)
06. Frida Gold - Liebe Ist Meine Rebellion
07. Dj Antoine - Bella Vita (Dj Antoine Vs. Mad Mark 2k13 Remix)
08. Jam & Spoon Ft. Plavka Vs. David May & Amfree - Right In The Night (David May Vs. Amfree Remix Ft Nate)
09. Wax - Rosana (Michael Mind Remix)
10. Jason Derulo - The Other Side
11. Theophilus London - Wine & Chocolates (Andhim Remix)
12. Feed Me & Crystal Fighters - Love Is All I Got
13. Chris Brown - Don't Judge Me (Dave Audé Remix)
14. Ke$Ha - Die Young
15. Carlprit - Fiesta (Michael Mind Project Remix)
16. Bodybangers Feat. Tony T. - Break My Stride
17. Lumidee Vs. Fatman Scoop - Dance! (Voodoo & Serano Remix)
18. Sasha Lopez Feat. Tony T. & Big Ali - Beautiful Life
19. Rita Ora - How We Do (Party) (Gustavo Scorpio Remix - Dirty)
20. Dido - No Freedom (Benny Benassi Remix)
21. Hurts - Miracle (Kill Fm Remix)
22. Baauer - Harlem Shake
CD2:
01. Pitbull Feat. Ke$Ha - Timber
02. Scooter - Maria (I Like It Loud) (R.I.O. Remix)
03. R.I.O. - Megamix
04. Mike Candys Feat. Evelyn & Tony T - Everybody
05. Follow Your Instinct Feat. Alexandra Stan - Baby, It's Ok
06. Djane Housekat Feat. Rameez - All The Time
07. Cascada - Glorious
08. Jack Holiday & Mike Candys - The Riddle Anthem
09. Michael Mind Project - Antiheroes
10. Whigfield Feat. Carlprit - Saturday Night (Max K. Remix)
11. Df & S Vs. Ceresia & Ron Carroll - Bang Bang (Explode) (Voodoo & Serano Remix)
12. Dj Shog Vs. Aboutblank & Klc - Fireflight (Dj Shog Remix)
13. Darius & Finlay Feat. Jai Matt And Nicco - Get Away (Festival Remix)
14. G&G - Use Somebody
15. Amfree Feat. Ziya - Let Go
16. Raven & Kleekamp - Piano In Love (Mason Tyler Remix)
17. Desh Feat. Nitro - Superstar
18. Alex C. Feat Lisa Rowe - Feed Me Diamonds
19. Lolita Jolie - I Wanna Dance With You
20. Max K. Feat. Gerald G! - Take It To The Limit
21. Nevs & Tyrell - Good Times (Johan K Remix)
22. Picco Feat. P. Moody - Venga (2k13 Remix)
CD3:
01. Martin Garrix - Animals
02. Otto Knows - Million Voices
03. Bingo Players Feat. Far East Movement- Get Up (Rattle)
04. Armin Van Buuren Feat. Trevor Guthrie- This Is What It Feels Like
05. Steve Aoki, Chris Lake, & Tujamo -Boneless
06. Dimitri Vegas, Moguai & Like Mike - Mammoth
07. Tjr - Ode To Oi
08. Axwell - Center Of The Universe
09. W&W - Lift Off!
10. Hardwell & Makj - Countdown
11. Dimitri Vegas & Like Mike Vs. Sander Van Doorn - Project T (Martin Garrix Remix)
12. Showtek - Slow Down
13. Krewella - Alive
14. Benny Benassi Feat. John Legend - Dance The Pain Away (Benny Benassi Remix)
15. Rush Hour - Just Take It
16. Kaskade - Atmosphere
17. Dream Dance Alliance (D.D. Alliance) - Typhoon
18. Holmes & Watson - Boom!
19. Chris Malinchak - So Good To Me
20. Fritz Kalkbrenner - Get A Life
21. Peer Kusiv & Martin Jondo - Rivers (Sometimes)
22. Tom Odell - Another Love