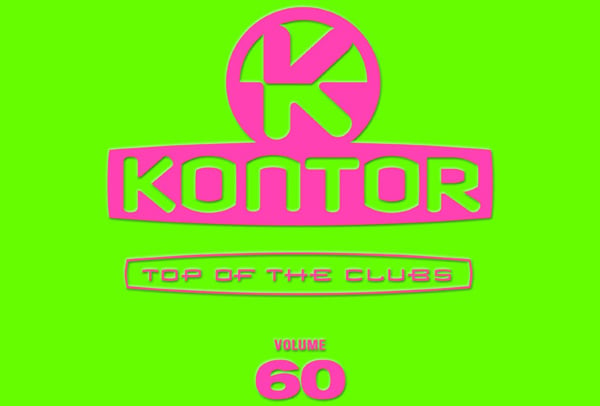 "Kontor Top of the Clubs Vol.60" - zum Download / Kaufen hier Klicken
Am 27.09.2013 kommt die "Kontor Top of the Clubs Vol.60" auf den Markt und bringt eine fette Tracklist mit sich. Wie immer gibt es auf drei CDs alles was das House-, und Elektroherz begehrt. 60 Titel befinden sich auf der 60. Ausgabe der extrem beliebten Compilation aus dem Hause KONTOR Records. Mehr als 1,5 Millionen verkaufte Exemplare sprechen für sich. Ein besondereres Highlight - wie bei jeder Ausgabe der beliebten Compilation - sind die exklusiven und brandaktuellen Titel, die sich immer auf einer der drei CDs befinden. Das Who-is-Who der House-, und Electro-Szene gibt sich hier die Klinke in die Hand. Auch bei der 60. Ausgabe ist das nicht anders.
Mittlerweile ist die Sampler-Reihe Deutschlands Nr. 1 DJ-Mix-Compilation. Ebenso ist sie ein wichtiger Trendsetter in Sachen Clubmusik. Viele DJs richten sich nach den Titeln, die sich auf und u
nter der Tracklist der "Top of the Clubs" befinden. Die teilweise erstmalig und exklusiv auf einer Compilation vertreten Tracks tragen viel dazu bei. Bei einem Preis von nur 15,99€ sollte man nicht lange überlegen und auf jeden Fall zugreifen. Hier empfehlen wir einen schnellen Klick auf das "Top of the Clubs" Artwork links dieser Zeilen oder auf den Button unten.
Für die Zusammenstellung und das Mixing des drei CD-Sets zeichnen sich neben Kontor-Resident Markus Gardeweg das DJ-Duo Plastik Funk und Michael Mind Project mit verantwortlich. Auch hier liegt ein Grund für die hohe Qualität der Compilation. Wer nicht überzeugt ist, check am besten den offiziellen Minimix (siehe unten).
Dieses Mal sind unter anderem Tracks von Künstlern wie zum Beispiel: R.I.O. feat. U Jean, Martin Garrix, Fedde Le Grand and Sultan + Ned Shepard, David Guetta feat. Ne Yo & Akon, Axwell, Martin Solveig & The Cataracs feat. Kyle, Cedric Gervais & Howard Jones, Basto, Denzal Park feat. Eyelar, Manian und viele viele mehr am Start. Und hier die offizielle Tracklist der "Kontor Top of the Clubs Vol.60".
Hier geht's zur Tracklist der Kontor Top of the Clubs Vol. 61 [Tracklist]
CD1:
01. R.I.O. feat. U Jean – Komodo (Hard Nights) (Extended Mix)
02. DJ Antoine vs Mad Mark feat. B Case & U Jean – House Party (Club Mix)
03. Martin Garrix – Animals (Original Mix)
04. Bruno Mars – Locked Out Of Heaven (Sultan and Ned Shepard Remix)
05. Dirty Disco Youth – Black Diamond
06. Avicii – Wake Me Up
07. Alex C. feat. Lisa Rowe – Feed Me Diamonds (Extended Mix)
08. David Guetta feat. Ne Yo & Akon – Play Hard (New Edit)
09. Hardwell & W&W – Jumper (Original Mix)
10. Armin van Buuren feat. Cindy Alma – Beautiful Life (Protoculture Remix)
11. Capital Cities – Safe And Sound (Tommie Sunshine & Live City Remix)
12. Sebastian Ingrosso, Tommy Trash & John Martin – Reload (Vocal Version)
13. Fedde Le Grand and Sultan + Ned Shepard – No Good (Extended Mix)
14. Smallpools – Dreaming (The Chainsmokers Remix)
15. Sono – Flames Get Higher (Dirty Disco Youth Remix)
16. Dirty South feat. Joe Gil – Until The End (Dirty South Mix)
17. Danny Avila – Voltage (Original Mix)
18. Aircraft & Miss Palmer – Don't Ever Let Go (Extended Mix)
19. Timeflies – I Choose U (Fedde Le Grand Mix)
20. Breach – Jack
CD2:
01. Martin Solveig & The Cataracs feat. Kyle – Hey Now (Club Mix)
02. Empire Of The Sun – Alive (Zedd Remix)
03. Axwell – Center Of The Universe (Original Extended Mix)
04. Afrojack – Esther 2k13 (D.O.N.S. & Tristan Casara Remix)
05. MOGUAI – PunkOmat (Original Mix)
06. Dimaro & Plastik Funk – Unstoppable (Instrumental Mix)
07. Nicola Veneziani – Go!
08. Daddy's Groove & Rob Adans – Unbelievable (Club Mix)
09. Inpetto – Girls & Boys (Original Mix)
10. Sick Individuals – Pepper
11. Cedric Gervais & Howard Jones – Things Can Only Get Better (Original Mix)
12. The Cube Guys & Barbara Tucker – I Wanna Dance With Somebody (Nicola Fasano & Miami Rockets Mix)
13. Style Of Eye & Tom Staar – After Dark (Club Mix)
14. Kat Krazy feat. Elkka – Siren (Extended Mix)
15. Pierce Fulton & Polina – Where We Were (Original Mix)
16. Alvaro & Mercer feat. Lil Jon – Welcome To The Jungle (Original Mix)
17. HIIO – Get Up
18. Stanton Warriors feat. Them & Us – Cut Me Up (Original Mix)
19. Kiki Doll – Electric Girl (David Jones Remix)
20. Supafly – Let's Get Down (Federico Scavo Remix)
CD3:
01. Steve Angello & Matisse & Sadko – SLVR (Original Mix)
02. Sander van Doorn – Neon (Club Mix)
03. Showtek – Slow Down (Original Mix)
04. Michael Mind Project – Illegal (Extended Mix)
05. EPIK feat. Camille Jones – Feel Much Better
06. Carlprit – Here We Go (Allez Allez) (Michael Mind Project Mix)
07. Manian – We Don't Care (Extended Mix)
08. Basto – Dance With Me (Original Mix)
09. Ivan Gough & Feenixpawl feat. Georgi Kay – In My Mind (Stefan Dabruck Remix)
10. Mischa Daniels feat. Nicole Jackson – Let's Connect Tonight (Extended Mix)
11. Dave Doringo feat. Jenson Vaughan – Surrender (Extended Mix)
12. Firebeatz – Wonderful (Original Mix)
13. Maison & Dragen – Colosseum (Original Mix)
14. Nicky Romero vs Krewella – Legacy (Vicetone Remix)
15. Dub Deluxe feat. Jenson Vaughan – Now Or Never (Extended Mix)
16. LaSelva feat. Cristobal – Milky Way (Extended Mix)
17. Denzal Park feat. Eyelar – Look Back (Original Mix)
18. 3LAU, Paris & Simo feat. Bright Lights – Escape (Original Mix)
19. Paul Oakenfold & Disfunktion feat. Spitfire – Beautiful World (Original Mix)
20. Rune RK – Buming Boombox (Original Mix)